Ruby Rose Proves She's a Legit Action Star In 'John Wick: Chapter 2'
Relative newcomer Ruby Rose outshines Keanu Reeves in his own sequel.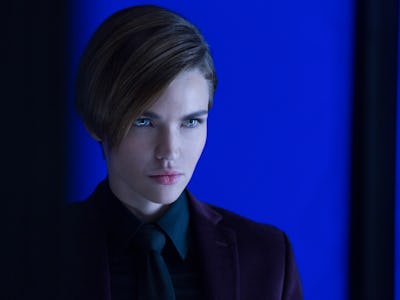 In the complex assassin's world of John Wick, there's a literal murderer's row of bad guys who fall victim to the title character's quest for vengeance. The number of villains and obstacles only increases in Chapter 2, the sequel out this weekend. And while we love the fact that Common got in on the action as a bodyguard and fellow assassin hot on Wick's tail, the real villainous highlight of the John Wick sequel is actress Ruby Rose.
A former MTV VJ in her native Australia, Rose is perhaps better known to American audiences as Stella Carlin in Season 3 and 4 of Netflix's Orange is the New Black, and as smooth-talking sharpshooter Adele Wolff in xXx: Return of Xander Cage. She gets a similar role to her xXx part in John Wick: Chapter 2, but now she's playing on the side of the bad guys and lets her fists do most of her talking.
Spoilers for John Wick: Chapter 2 from here on out
Rose plays Ares, the mute henchwoman loyal to Chapter 2's lead villain, sinister crime lord Santino D'Antonio (Riccardo Scamarcio).
She's introduced when D'Antonio shows up at Wick's stylish abode in suburban New Jersey. Wick is cautious about the surprise visit because D'Antonio makes a subdued but serious demand: Wick must return the favor for his Marker. In the Wick-verse, a Marker is a blood oath between assassins. It's favor trading, and bad guys who enter into the pact must complete a task when called upon, no questions asked. While D'Antonio and the Wick man do the talking, Ares hovers around back to make sure some serious shit doesn't go down, from Wick at least.
Wick's blood oath favor is to go to Italy and kill D'Antonio's sister, who has ascended to a seat at the High Table of assassins. It's kind of like the assassin's congress, and D'Antonio wants his own chair. And when Wick decides to hold up his end of the blood oath bargain, the Odd Job-esque Ares follows him to Rome to make sure he gets the job done. She's also accompanied by a whole squad of D'Antonio's cronies to make sure Wick doesn't seek revenge on D'Antonio. But after keeping his end of the Marker and realizing Ares was there to ice him, that's exactly what Wick does.
Rose doesn't get too much screentime. But whenever she pops up in the background, trading sign language barbs with Wick and egging him on in palatial locales like the Roman Continental hotel, she's mesmerizing. She's able to play the audience's demur image of her against us, as well as Wick. It's precisely because she doesn't talk and doesn't look like the buff array of sharply dressed assassins that Wick deals with that we know she's a tough opponent.
When Wick ultimately corners D'Antonio in a secluded museum exhibit in the film's harrowing climax, Ares finally gets to take on Wick one-on-one. We won't specifically spoil it, but try to enjoy Ares while you can. We hope to see her in what we hope will be a series of lucrative John Wick spin-offs. And we hope to see Rose in way more multi-million dollar Hollywood productions. It's very rare to notice a moment when a star is on the rise, and Rose's turn in John Wick: Chapter 2 is one of those moments.