Xander Cage Ain't Afraid of No Coat
A conversation with the woman behind an over-the-top movie's over-the-top outfits.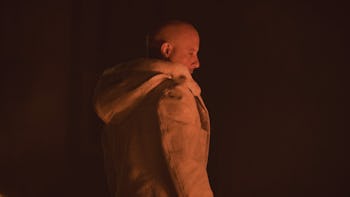 Kim Tillman
It's easy to do the costumes for a movie like xXx: Return of Xander Cage, right? Throw together an ensemble for actor Vin Diesel that includes a tank top, an oversized shearling coat, and some Timberlands. Done, right? Nope. Nothing in the movie business is ever that easy or quick. According to veteran costume designer Kim Tillman, some serious planning and discussion went into sorting out a sleeveless wardrobe for Diesel that felt like a call back to his franchise's first installment, and also a comment on how far we've come as people.
Tillman — who previously worked on Battleship, 10 Things I Hate About You, Wild Things, and Cougar Town — spoke to Inverse about the challenges of making the costumes for a movie about sweaty people who don't give a fuck and remaking the coat in Canada.
Do you approach a big globe-trotting action movie differently than the smaller movies you've worked on?
A movie like this is just bigger, and every single cast member is a star. You can't call up the director and ask for a few more hours to get things done. It's a particularly unusual situation because a lot of these actors are based around the world. They would come in just a day or two before they started work, so we had to pre-plan and pre-organize in the approximate size of the actors, and start by pre-fitting clothes.
Was it difficult finding an original take costume-wise doing a sequel, especially one that came out 15 years after the original?
It was all about looking at who the guy Vin Diesel plays is and asking where he would be 15 years later. Vin was excited to come back, and he didn't want to betray the character.
Nothing in this movie is in its original form. Anything we bought was recut to allow the actors to do the action stunts, but also to complement their bodies. There was a little back and forth about how to be recognizable, and that led back to the coat.
The coat perfectly represents the tongue-in-cheek tone of the movie. What was it like making that?
The coat had a life of its own. The joke is that the character has a few things from his past, and he has to go to a cold environment, so why not throw on the old coat as a little wink to the audience.
We had to copy it from the original, which was made when Tom Ford was in charge of Gucci. We tried everything to get the exact one, but they didn't have it anywhere in their archives. Luckily we were in Toronto where they have great furriers, and we had someone custom make it to Vin's measurements. The joke is that he only has a few things from his past, and he has to go to a cold environment, so why not throw on the old coat.
What was it like designing casual spy costumes for actors who were going to be doing a lot of physical acting
Each person does their action in a different way, and the script says they have to look dope while doing it. Vin used the word "swagger" when thinking about creating the looks. We focused on mostly "urban leather cool" instead of casual.
Actors had about 15 to 20 custom versions of each item, which was kind of mind bending. We had to allow for the movement by incorporating a lot of stretch fabric. For instance, in Donnie Yen's opening scene, he crashes through a window, so we had to have a lot of stretch fabric to allow that movement, but later when he's wearing the same thing on the street, it's just the regular outfit.
Did you want to give all the characters their personalities through what they wear?
With something like xXx I really want to hit viewers over the head with every outfit. Each costume had to represent that character but also stand alone in the ensemble.
With Donnie Yen we wanted to show his character's conflicted duality. Is he the bad guy, is he the good guy? So there was a lot of deep indigo blues. He's a Chinese-American who studied in America and maybe served in the special forces in some way, so he had to be tactical. For Ruby Rose, we assume she's an ex-military special-ops sniper. Perhaps she was FBI. What would former military who goes rogue as a gun-for-hire wear? We used army fabrics that we thought she'd customized in her own cool way.
What about with a character like Serena, played by Deepika Padukone? She's glamorous in some scenes but tactical in others. How did you maintain a balance with her costuming to make that work?
It was about her physicality. She's tall and striking, so we tried stuff on her and black was the way to go. She's a woman on a man's team, but she holds her own. She's tough, and needed clothes that were tight to her body based on her movements because her character was always specific in her actions.
We also wanted to have all the women on the team look different together. If you saw them, you'd go down the line and be able to say, that one is street-smart and tough, she's more behind the scenes and mysterious, she's a brilliant badass.
Was there a concerted effort to find a way to separate Vin Diesel's look from his character in the Fast & Furious movies?
I was definitely conscious of that. We thought Dominic Toretto would wear a certain kind of tank top, while Xander Cage would wear a different one. I would bring Vin ideas and he'd say, "That's too Toretto," because he knows the dividing line between the two, even if it's so slight. The thing that really differentiates the two for me is the bottom half of the costumes, with subtle changes in the jeans and boots the two characters wear.
Did any of the characters end up looking completely different from what you initially envisioned?
This was really one of those magical projects where that didn't happen. I really clicked with director D.J. Caruso, and the script gave me so much information. But mostly Vin guides this process by being serious about the work but making sure we have fun with it. Even when we were stressed out about making certain deadlines, Vin would always come to me and say something to make everyone laugh. We'd come to the realization that we all get to have fun at work, and we want that to be reflected visually.