To Close the "Life Expectancy Gap," We Need to Do This One Thing
The wealth gap is also a life gap.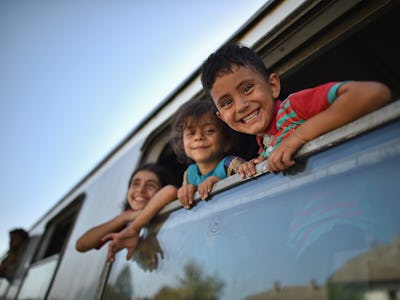 Getty Images / Jeff J Mitchell
Distributed economic growth: Without it, the damaging effects of inequality on societies across the planet will only continue, predict researchers in an urgent new paper.
"The immorality of inaction on inequality," published this week in The British Medical Journal, levels this damaging assessment on the job we've done to close gaps between the richest and poorest in every community: "Our collective failure to reverse inequality is at the heart of a global malaise."
And for people at the bottom end of the economic scale, that gap creates matters of life and death, write University of York Epidemiology professors Kate Pickett and Richard Wilkinson.
"In many cities in the UK and USA, for example, we continue to see life expectancy gaps of 5 to 10 years and occasionally of 15 to 20 years between the richest and poorest areas," the authors write.
Pickett tells Inverse that this life expectancy gap has been going steady for a while: Its origins are in 1980s, when Neoliberalism, with its tendency to favor free-market capitalism, became the prevailing ideal. Corporate profits rose, but life expectancy did not. Since then, the gap has widened.
Looking forward, Pickett explains that the political goals of world leaders in the coming years will determine whether that begins to change. Austerity measures and a resurgence of Neoliberal policies could exacerbate the problem and solidify what is still a relatively fluid life gap. Progressive movements, which Pickett credits with reducing inequality in the after World War II, could begin to reverse it.
To curb this trend, sustainable economic growth must happen across income brackets, and such development can be spurred by new policies, like "a code of practice for pay above the minimum, to a top tax rate of 65 percent and a child basic income." Other programs, like a universal basic income could also help slow the growth of inequality. In the more immediate future, the prospect of automation in the service sector — an idea backed by Andy Puzder, President Donald Trump's nominee to be the Secretary of Labor — could severely disrupt low-income workers in the next decade.
"With government driving up the cost of labor, it's driving down the number of jobs," Puzder told Business Insider last year. "You're going to see automation not just in airports and grocery stores, but in restaurants.
A World Economic Forum report on the "greatest risk factors" for the planet, released last month, found that "rising income and wealth disparity" ranked as the most important trend likely to determine development across the world over the next decade, prompting Pickett and Wilkinson's editorial on our collective "immorality of inaction."
"Inequality matters," write Pickett and Wilkinson, "because, as a robust and growing body of evidence shows, the populations of societies with bigger income differences tend to have poorer physical and mental health, more illicit drug use, and more obesity." They say those poorer health conditions translate to lower life expectancies in poor communities.
What's more, growing inequality is the more important global trend for the next decade. According to the report, economic inequality in the industrialized world had been in decline until 1980s. This is in contrast to industrialized economies today, like the United State, where inequality is rampant. And it's only getting worse. The report notes that, in the three years between 2009 and 2012, the incomes of the top one percent of earners jumped 31 percent, while incomes from the lower 99 percent rose just .5 percent — that's almost nothing at all. This issue constitutes a greater crisis for the WEF than other threats like climate change, cyber warfare, and political polarization.