Kanye West Deletes Tweets About Donald Trump
Along with a cryptic tweet suggesting he'd run for office.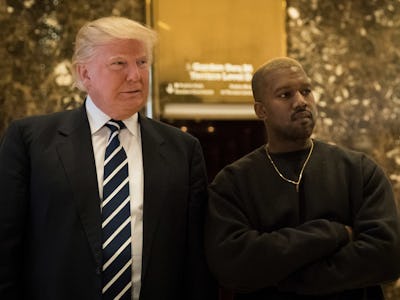 Getty Images / Drew Angerer
President Trump has apparently lost at least one more supporter now that Kanye West has deleted all his tweets about The Donald. West's Twitter scrubbing reportedly came in response to Trump's controversial first few weeks in office, with TMZ reporting that the Muslim ban was the straw that broke the Kanye's back.
Previously, Kanye had indicated a supportive attitude toward Trump, even saying that, if he had voted, he would have voted for Trump. At the time (and still now), it was unclear whether Kanye's support of Trump was genuine or if it was simply a stunt. Conversely, his disavowal of Trump appears to be legitimate.
In the deleted tweets, Kanye said he wanted "a direct line of communication" with the president and that he was open to meeting with Trump to talk about issues like "bullying, supporting teachers, modernizing curriculums, and violence in Chicago." Kanye also deleted a tweet that simply read "#2024," which many people hypothesized was the rapper hinting that he'd possibly be running for office in the future.
Trump's and Kanye's relationship caught people's attention back in December 2016 when the rapper visited Trump at the Manhattan Trump Tower after having just left the hospital. The two reportedly talked about "life."
This isn't the first time Kanye has chosen to make a statement via tweet retractions. In 2012, he deleted his entire account and left with the message "BE BACK SOON." Back then, though, it seemed that the action was more catharsis and less political statement. Kanye has never been one to shy away from politics, so we can likely expect to hear more from him if Trump doesn't change his tune.