'Logan' Photo Focuses on Lonely, Mysterious Mutant Caliban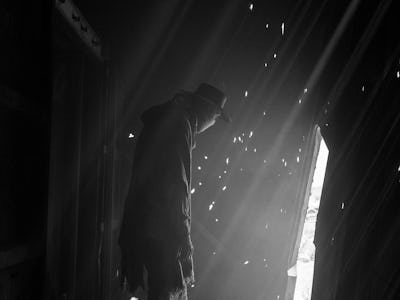 Instagram.com/wponx
The final Wolverine film Logan won't have a robust cast of mutants, but it will have a select few, including the strange and mysterious Caliban. A new photo from the movie's Instagram account shows Caliban looking like a Darkman cosplayer in a dusty confined space. Stephen Merchant will play the lone mutant who lends a hand to Wolverine (Hugh Jackman) and Professor Xavier (Patrick Stewart) while they're on the run from Donald Pierce and his Reavers.
Merchant's take on Caliban, a mutant with the power to track other mutants who debuted in Uncanny X-Men #148 in 1981, will be different from the Caliban played by Tómas Lemarquis in last year's X-Men: Apocalypse as a black market merchant with Psylocke (Olivia Munn) as his bodyguard. Although they're the same character in the same, shared X-Men universe, Logan director James Mangold admitted he included Caliban without knowing he was also in Bryan Singer's movie. Thus, Caliban has a very different "energy" in Logan than in Apocalypse.
"I actually had written him into our movie," Mangold said in a recent interview. "They didn't know [he was] in Apocalypse, and then they kind of wrote it in their movie, and they cast someone in their movie and I had not seen it and was working away on mine."
Despite the coincidence and continuity errors — which the X-Men timeline has no shortage of — Mangold still wanted to keep his vision undeterred. "I just wanted to see this particular energy that we wrote, so I cast for what we were looking for," he said.
With a 40-year difference between the events of X-Men: Apocalypse and Logan, it's still plausible that someone like Caliban can change. He's still a mutant who can track other mutants; it's just now he has a different head on his shoulders.
Check out the new image of Caliban on the @wponx Instagram account.
Logan will be released March 3.