A.I. Will Save Us From the Soulless Tasks of Corporate America
And taking advice from A.I. will become normal.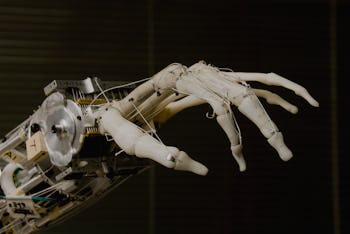 Flickr / uwnews
Good news: Artificial intelligence and automation could create more jobs, not take them away, and we can look to history for proof.
That was the idea from Ram Swaminathan, CEO of Buddihealth — an "artificial intelligence based Healthcare Technology company" — who was part of a panel Tuesday on A.I.-focused start-ups.
"One would argue that automation would put all these workers out of jobs in the textile industry," Swaminathan observed. "But the price of cloth plummeted, and the demand for cloth went up."
Essentially, automation created different, new jobs that required new skills. It might just happen again.
Swaminathan was one of four panelists at the regularly occurring "StrtupBoost" meetup in Manhattan that's aimed at entrepreneurs. Held at the Yard, a cooperative workspace, the panelists offered a vision of the future that's filled with new jobs which require more education and skill.
"There's a displacement from one job to a more skilled job," Swaminathan told an audience of about 30 people. "It's going to create new jobs and new job descriptions."
Former President Barack Obama said as much during his farewell address this month: "The next wave of economic dislocation won't come from overseas. It will come from the relentless pace of automation that makes many good, middle-class jobs obsolete," adding: "And so we must forge a new social compact – to guarantee all our kids the education they need."
In fact, a 2013 University of Oxford study examined 702 job areas that could one day be automated, and the researchers concluded that about half of all jobs could be threatened.
But the panelists on Tuesday were optimistic: A.I. will actually create more jobs by increasing productivity.
Swaminathan's company helps people who work in the health sector process medical claims on the fly, giving employees more time to care for patients, and spending less time on administrative tasks.
Likewise, A.I. takes over IT support at Electric, the company founded by Ryan Denehy, another panelist. Now, rather than having people wait on the phone, A.I. can efficiently provide support. As bizarre as it sounds, or as annoying as automated customer service menus are now, taking advice from A.I. will become commonplace.
"One of the most exciting things, but one of the most common misconceptions about A.I., is that things will go from fully manual processes to being fully automated," Denehy told Inverse later. "We're seeing a lot of different businesses developing tools that have a really positive impact, such as technology that's enabling humans to be superhuman."
Beyond that, around the world, A.I. is automating legal work, making schedules and even diagnosing cancer. While A.I. takes over the busy work, humans provide context.
"You can use A.I. to replace people or you can use A.I. to help them be more productive," said ForwardLane CEO Nathan Stevenson, another panelist. "I think it does come down to how you're thinking about using it."
The final panelist, A.I. Nexus Lab Manager Mina Salib, believes one day, everything will incorporate A.I. But he said that when it comes to A.I. innovation, we must take into consideration how it will be used.
"Automation is one thing because we're replacing the human physique," Salib said. "You're doing less labor. But this is the first time we're replacing the intelligence of a human, and that will really do something to humanity in general."
"As the people working on this technology, we do need to think ahead and have a plan and get involved and talk."