Could the A.I. Ethics Fund Be a Response to a Trump Presidency?
Could it be a response to the presidential election?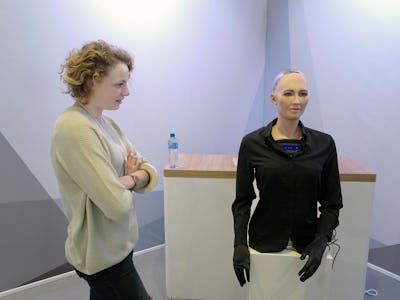 Flickr / World Economic Forum
The Omidyar Network (of eBay founder Pierre Omidyar), LinkedIn founder Reid Hoffman, and the Knight Foundation are committing $27 million to a fund intended to support the development of artificial intelligence for the good of humanity. According to an announcement from the John S. and James L. Knight Foundation, the intention of the fund is to, "apply the humanities, the social sciences and other disciplines to the development of A.I." In a technological realm with so much potential to revolutionizing media, communications, manufacturing, and pretty much every industry, it seems natural to ensure that we don't end up with a SkyNet situation.
Could this be a response to the looming Trump presidency? Evidence suggests that tech leaders don't trust the new administration to govern robotics effectively, so perhaps forming such a foundation is Silicon Valley's way of influencing policy.
Hoffman has publicly questioned the wisdom of PayPal founder Peter Thiel, who's cozied up to the Trump administration. Omidyar has opposed Thiel too, if a bit more aggressively.
For now, though, the tech billionaires are limiting their comments to all the good that can come of A.I.
"As a technologist, I'm impressed by the incredible speed at which artificial intelligence technologies are developing," Omidyar said, in the statement on the fund's launch. "As a philanthropist and humanitarian, I'm eager to ensure that ethical considerations and the human impacts of these technologies are not overlooked."
During the most recent election cycle, artificial intelligence was in the news a lot, if just under the surface. Discussions of fake news that may have bolstered Trump's campaign were built on a foundation of A.I., since algorithms could be exploited to push questionable content to the top of people's newsfeeds. In light of Donald Trump's public contempt for a free press, it feels appropriate that this fund would be charged with ethical uses of artificial intelligence. But again, the initiative's funders have kept their public comments pretty benign so far.
"There's an urgency to ensure that A.I. benefits society and minimizes harm," said Hoffman in the announcement. "A.I. decision-making can influence many aspects of our world – education, transportation, health care, criminal justice, and the economy – yet data and code behind those decisions can be largely invisible."