Amy Schumer Rocks an Orange NASA Uniform at the Women's March
The comedian showed up in style to protest Donald Trump.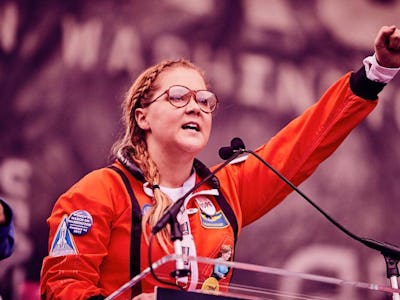 Instagram/@amyschumer
On Saturday, Americans took to the streets all over the country to protest Friday's presidential inauguration of Donald J. Trump. In stark contrast to the dearth of relevant celebrities at the president's inauguration concert, the Women's March packed some serious star power. Among the celebrities who came out to march in Washington, D.C. was comedian and vocal feminist Amy Schumer. Never one to arrive quietly, Schumer showed up in an orange NASA jumpsuit.
A photo on her Instagram page shows Schumer posing with a crew of similarly dressed friends, with a caption that reads, "March like everyone's watching."
Yesterday was not the first time Schumer rocked the NASA uniform in recent memory. She also wore it to an interview with astrophysicist Neil deGrasse Tyson. When the scientist asked her why she was wearing it, she responded that she was just trying to be prepared for anything that might come up. "When Arrival happens, I will talk to them," she told him earnestly. "I'm the girl you call."
But Schumer might not just be sporting the NASA orange as a gag. Bustle writer Amy Mackelden suspects that she might have deeper motives than aspirations of spaceflight or alien communication. It could be a gesture of protest. "Schumer's outfit may be a reference to Trump's desire to change NASA's direction," Mackelden writes. NASA under the Trump administration seems poised to pivot its focus toward space exploration at the expense of research geared towards understanding Earth's climate. So perhaps Schumer's outfit was at least partially a response to that looming specter.
Or maybe the comedian's outfit was meant to commemorate the progress that women have made in science in the United States, looking back to the first female astronaut. In this case it matters little that Sally Ride actually wore blue in space. The symbolic gesture is not lost on us.