Trump's Whitehouse.gov Page Has a Plan to Kill Climate Action Plan
The new site content replaced Obama's during the inauguration.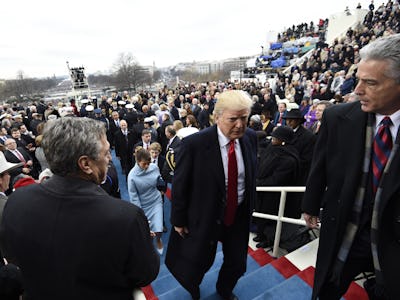 Getty Images / Pool
As of 11:23 a.m. Eastern time, Barack Obama's sitemap — the list of all the 44th President's webpages on major American issues — was still live on the White House website. Now that the presidential inauguration of Donald J. Trump has concluded, anyone who navigates to Trump's new whitehouse.gov page will see a big announcement that the Trump Administration will eliminate the Climate Action Plan as quickly as possible. "The Trump Administration is committed to energy policies that lower costs for hardworking Americans and maximize the use of American resources," reads the statement displayed on the page, "freeing us from dependence on foreign oil." This sounds benign, but in reality, it's a plan to dismantle ongoing efforts to curb carbon pollution and prepare the U.S. for the coming effects of climate change.
Trump's controversial choice of Scott Pruitt to head the EPA is just one of the ways in which the incoming president signaled a stark change from the Obama administration. Pruitt has fought the EPA for years in favor of the fossil fuel industry, and the common-sense language in Trump's America First Energy Plan belies an agenda to dismantle President Obama's climate legacy and undermine the United States' efforts to fight and prepare for climate change.
For instance, one of the top issues highlighted in the America First Energy Plan is "clean coal technology," something environmentalists have repeatedly pointed out as an oxymoron.
This shift in policy agenda is especially poignant in light of this week's NASA announcement that 2016 was the warmest year in recorded history. Trump's policy statement includes a commitment to balance the U.S.'s energy needs with environmental protection, saying that the president will, "refocus the EPA on its essential mission of protecting our air and water." But the plan offers no elaboration on this point, and given Pruitt's track record, this commitment to the environment rings hollow. Trump's administration appears to be on track to reverse progress that the United States has made in preparing for climate change, and it's wasting no time in making that agenda clear.