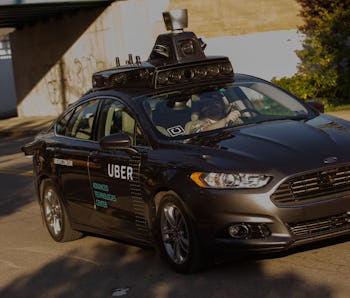 Innovation
The New Committee on Automated Vehicles Includes Google and Uber Execs
Getty Images / Jeff Swensen
The Department of Transportation announced a new Federal Committee on Automation that's stacked with executives from major technology and transportation companies to oversee how automated vehicles should be deployed.
The committee, which was announced on Wednesday, includes 25 professionals and experts from different sectors. They will hold their first meeting on January 16, and one of their priorities includes working on research, policy, and regulations related to automated vehicles. Right now car and technology companies are working on developing autonomous cars, but automation may affect buses, trains, planes, and drones, and the DOT wants to be on top of the issue.
The committee includes people who work in prominent transportation companies. Out of the 25 people involved, two work in the automotive industry (General Motors and Delphi Automotive), two people work in autonomous car companies (Zooz and Waymo), three work in car or ride sharing (Uber, Lyft, and Zipcar), and even someone from high-speed transport company Hyperloop One, Douglas Chey the company's senior vice president of systems development.
In addition, the mayors of Los Angeles and Oklahoma City are involved, with LA's Eric Garcetti co-chairing the group. Four other participants work in academia, and two work in supply and delivery (FedEx and Zipline International). According to the Department of Transportation's Beyond Traffic 2045 report, figuring out how to accomodate shipping is an important issue, as freight volume will increase by more than 40 percent by 2045.
The council also includes reps from the technology giants Apple and Amazon, and various organizations focused on research, policy, and trading.
In January, Foxx announced that the Obama administration would make vehicle automation a priority, and he first announced the formation of this committee back in October.
"During my time at the Department, we have fostered some of the most significant technological changes to ever take place in transportation, and we did so while keeping our focus on the safety of the American people," said U.S. Transportation Secretary Anthony Foxx. "This new automation committee will work to advance life-saving innovations while boosting our economy and making our transportation network more fair, reliable, and efficient."