Everything You Need to Know About Plunder in 'The Flash'
And what does he reveal about Savitar and Iris?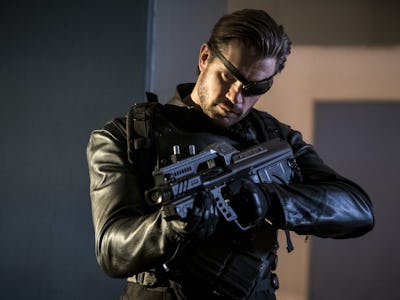 The CW
Fans of the Arrowverse will return to Central City when The Flash continues its third season on the CW on January 24. In the return episode, "Borrowing Problems from the Future," Barry Allen (Grant Gustin) is haunted by his premonition of Savitar murdering Iris (Candace Patton) which is only made worse when Barry finally meets master sharpshooter and criminal Plunder (Stephen Huszar). Plunder hasn't had a long history in comic books, and his only function in The Flash is a seemingly to act as a red herring for Iris's death, but hey, maybe his brief time in comics will reveal something insightful.
Created by Geoff Johns in The Flash #165 in 2000, Plunder is a master assassin from a parallel world that's "plundered" into chaos. He's discovered by Mirror Master and used by the Rogues to attack Central City. While the Rogues take over Central City, Plunder begins working for the Thinker to attack Keystone, taking complete control of the city, until the Flash returned from (another) alternate reality to finally save the day.
Plunder's last arc was when he took the identity of his own counterpart, Detective Jared Morillo. When Plunder is discovered, Zoom defeats Plunder, shattering him into pieces. Whether Zoom killed him or sent him back to his original reality is a mystery to this day. How dramatic!
Plunder was first "seen" in the The Flash last December. When Flash travels to the future and sees Savitar kill Iris, a news report heard in the background reports that the "highly-publicized trial" of Jared Morillo, also identified by his moniker "Plunder," has come to a close. Plunder was found guilty of "grand theft" and "aggravated assault" for robbing a Central City museum, an event Barry fears may come true when the show picks up again in just a few weeks.
The Flash returns January 24 on the CW.