The UK Will Put $18 Million Toward Mental Health Reform
Money will go to changing attitudes and expanding resources.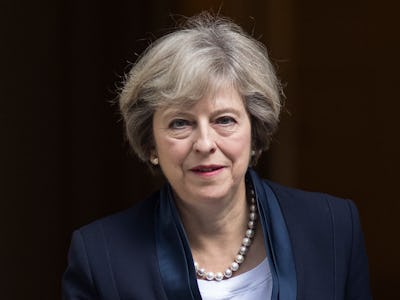 Getty Images / Dan Kitwood
On Monday, British Prime Minister Theresa May outlined a number of policy proposals aimed at bringing the Conservative Party toward a "new center ground.". Among the strategies and platforms she proposed was aggressive government action to improve the status of mental health in the United Kingdom.
The reforms will focus on young people, who May said are at the highest risk of experiencing problems with mental health. Research from the National Institute of Mental Health found young people are affected disproportionately, with 20 percent of youth between the ages of 13 and 18 living with a mental health condition. The organization also found that 50 percent of lifetime mental health problems start by the age of 14 and 75 percent by 24.
May's proposals include "additional training for teachers, an extra £15m for community care, and improved support in the workplace." That amount converts to about $18.2 million. Further, May plans to reallocate £67.7 million (about $82.2 million) in existing National Health Service funds to "online services, such as allowing symptom checks before getting a face-to-face appointment."
The PM said these reforms will address critical flaws in the way the UK's healthcare system currently operates with regards to mental illness, where she says treatment isn't accessible enough for many, young women in particular. And more than simply improve the quality of care, the Prime Minister said that she wants to see an overall change in attitudes about mental illnesses. It's a timely maneuver, coming not long after an International Men's Day whose focus was on high rates of depression and suicide among men.
May's speech is a continuation of work that she championed in her prior position as Home Secretary.
In the United States, meanwhile, concerns about the inadequacy of care for the mentality ill are growing as Republicans draw closer to dismantling Obamacare. If the act is killed, mental health services will take a hit. USA Today reports that "people helped the most by the ACA are the ones most likely to suffer from poor mental health and addiction." Disorders like anxiety or schizophrenia, or struggles with addictions to opioids or alcohol, affect 30 percent of people who are covered by Obamacare's Medicaid expansion. Without the healthcare law they stand to lose a substantial amount of resources.
Additionally, Politico reported back in October that mental health professionals are worried about the impact Donald Trump could have on their patients and the broader population. And last summer about "3,000 therapists signed a self-described manifesto declaring Trumps proclivity for scapegoating, intolerance and blatant sexism a 'threat to the well-being of the people we care for' and urging others in the profession to speak out against him." That manifesto pointed out that Trump, during his candidacy, was "legitimizing, even celebrating, a set of personal behaviors that psychotherapists work to reverse every day in their offices."
The state of American government's attitudes toward mental health will begin to pan out as Trump soon takes office. Meanwhile, May is taking more direct action to expanding efforts and resources across the Atlantic.