8 Movies That Will Be Our Only Comfort in 2017
John Wick, King Kong, Baby Groot, Dom Toretto, Luke Skywalker, and you are all invited.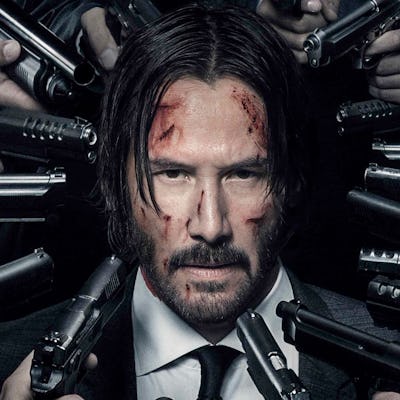 Summit Entertainment
A lot of serious shit went down in 2016, not to mention a lot of terrible movies. Remember Independence Day: Resurgence? We do, but we wish we didn't. But to get out of this mopey movie rut, it's best to look to the unwritten future of 2017 laid out before us and pick out some singular cinematic samples to make this year at the movies way better than anything that's come before.
There's a whole host of movies both big and small to choose from, but we're thinking specifically about the ones that will make us all warm and fuzzy inside in a way only the best films know how. From Baby Groot to Dom Toretto and everywhere in between, 2017 is looking like a collectively awesome and memorable time at the movies. Here's the perfect picks to have on your radar.
8. Guardians of the Galaxy: Vol. 2
When a movie's first trailer is one of the better things you've seen in a theater this season, the movie better be as good. But there shouldn't be much to worry about when it comes to James Gunn's follow-up to what is still the best Marvel movie yet. Yes, Guardians of the Galaxy is kind of a basic sci-fi space adventure that also happens to include a mouthy raccoon and sentient talking tree, but therein lies the point. It's using Marvel's gigantic scope to deliver a straight-up great time. A lot of comic book fans will set their sights on Spider-Man: Homecoming, but sequel-itis isn't going to stop Vol. 2.
7. War for the Planet of the Apes
Director Matt Reeves just gets genre movies. He doesnt get enough credit for making the ridiculously great Cloverfield or the spooky vampire drama remake Let Me In, and he certainly doesn't get the kudos he deserves for Dawn of the Planet of the Apes, a technical marvel and vivid sci-fi movie hampered by the wrongfully skeptical opinion that it's just another Planet of the Apes movie. It doesn't matter right now, but the one-two punch continued in this summer's War for the Planet of the Apes will be appreciated by future generations of fans who will wonder why more wasn't made about just how damn talented Reeves was and is.
6. The Beguiled
When Sofia Coppola makes a movie you better take notice. After the woefully under-appreciated Marie Antoinette and all-time-good Lost in Translation, Coppola's upcoming adaptation of The Beguiled is primed to bring her back into the best-living-American-director conversation. The Civil War-era story about an injured Union soldier recuperating in a southern female boarding school has all the Coppola hallmarks. Angsty girls (Elle Fanning and Kirsten Dunst), unrequited love (Colin Farrell as the soldier and Nicole Kidman as the school's headmistress), and inevitably devastating growing pains. All we need now is a New Wave soundtrack and we'll be set.
5. Kong: Skull Island
For some reason people keep returning to King Kong beyond the opportunity for a movie studio to match him up with Godzilla to make a big monster-filled cinematic universe. Filmmaker Jordan Vogt-Roberts's splashy 1970s-set take on the gigantic monster gorilla looks like it's attempting a level of blockbuster fun that Peter Jackson's bloated 2005 version forgot about. On a basic level, if you have Samuel L. Jackson and John Goodman in your movie (not to mention Tom Hiddleston and Brie Larson) you know you're on the right track. Does the world need another King Kong? Probably not. But a Kong-sized escapist spectacle might be just what audiences didn't know they needed.
4. John Wick: Chapter Two
Release Date: February 10
Wick. Is. Back. His sidekick dog is too. It's kind of crazy to think that an inauspicious Keanu Reeves action movie was good enough to warrant a sequel, especially since it didn't involve computer screens and scrolling green code, but here it is: Chapter 2. The first movie was a semi-simple affair — a slick revenge tale about a former assassin who wants to kill the guy who killed the dog that his dead wife gave him — but it was the hint of the flashy underground world of Wick's fellow assassins that hooked people into wondering what could come next. Apparently Wick takes a European vacation this time around, and it'd be foolish not to want to go with him.
3. The Fate of the Furious
We still can't believe that's the actual name of the movie, but we'll be damned if the greatest movie series with the weirdest naming conventions doesn't stop getting wilder. The Fast Franchise has come a long way. Vin Diesel and his merry band of conveyance criminals were stealing DVD players in the 2001 original. Now they're driving on frozen bodies of water trying to escape from nuclear submarines. But that's what makes this series so great.
Its absurdity is so concentrated that you can't help but go along for the ride. Diesel already has another franchise sequel coming out early in the year, but xXx: Return of Xander Cage is just a Diesel-shaped amuse bouche for the good stuff. The eighth Fast movie is supposed to cap off a final trilogy of films, and it comes with the added bonus of Diesel's Dom Toretto playing the bad guy this time.
2. Baby Driver
It's been a minute since we last heard from certified geek filmmaking king Edgar Wright after all the Ant-Man drama forced him out of his big budget Marvel project. But he's back doing his own thing called Baby Driver, a movie about a young getaway driver (Ansel Elgort) who does random jobs for a group of bank robbers led by Jamie Foxx and Jon Hamm. Knowing this is a movie by Wright means the film will be packed to the brim with stylized scenes of genre movie greatness (we're getting 1970s vibes from the all-too-few sneak peeks released so far) and a kickass soundtrack (go listen to the Scott Pilgrim soundtrack immediately).
1. Star Wars: Episode VIII
Release Date: December 15
Was there really any other proper choice? Lucasfilm has done the unthinkable by bringing Star Wars back from the dead. Besides creating an even bigger cash cow than it once was — even in the depths of the prequels — it also did the unthinkable-est of the unthinkable: Make two great Star Wars movies in a row. We know virtually nothing about what the plot of the next movie is, but if we're judging it solely by all parties involved then all signs point to Episode VIII continuing the streak. Barring some sort of sickness that renders good actors into bad ones, the saga's newcomers like Daisy Ridley, John Boyega, Adam Driver, and Oscar Isaac will continue to kick tons of ass. Don't even get us started on writer/director Rian Johnson, a dude who just oozes sci-fi talent. 2017 is bound to end on a memorable cinematic high note.