Everything to Know About 'Furious 8,' Including Charlize Theron's Role
What can we expect in the eighth 'Fast & Furious'? A couple things.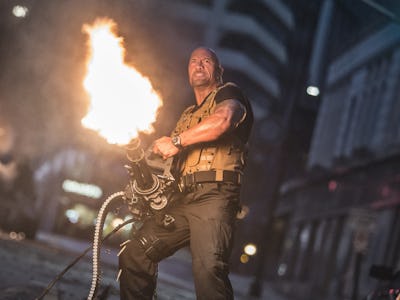 Universal Studios
Just a measly 365 days separates us from Fast 8, the eighth iteration to the outlandish Fast & Furious film series. What started as a just a plain ol' Hollywood urban crime/street racing flick with Ja Rule on the soundtrack has evolved into a full blown, globe-trotting James Bond-like franchise. And sometimes it's way more fun to watch than actual James Bond movies.
Shepherded by Straight Outta Compton director F. Gary Gray (taking over from horror filmmaker James Wan), here's everything we know that's shaping up Fast 8 to be pure fire.
It's set in New York City (mostly).
Though 2001's The Fast & the Furious was set in Los Angeles, Vin Diesel (who stars in the series as the brawny Dominic Toretto) told Jimmy Fallon on The Tonight Show the film was inspired by an article about drag racing in New York. It's been a destination the star has hoped the series would someday go — and now, someday has arrived.
From the backroads of Los Angeles to Miami, Rio de Janeiro, London, Tokyo, Abu Dhabi, and even the mountains of Azerbaijan (Furious 7 was bonkers), Fast 8 will finally speed around the sharp, grid-like streets of Manhattan.
The film is also shooting in Iceland, which the production is bringing to the country its "largest explosion ever".
F. Gary Gray is making Fast 8 another game-changer for the series.
It's indisputable that Fast Five changed the whole franchise, from a movie about racing and crime to a giant heist movie. Fast & Furious 6 changed things up again, cementing the movie as a global action-adventure. Now, Fast 8, under direction by Straight Outta Compton's F. Gary Gray, will reinvent the series again under a new lens. To what extent remains unclear.
"I'm probably not at liberty to go too far into detail. All I have to say is I'm extremely excited about the direction we're going in, and we're really pushing to make sure the audience feels like it's not more of the same," he told Collider. "They feel like it's fresh, they feel like the characters they've come to know and love are there, but this is gonna be different, and that's probably the most I can give you right now."
Deckard Shaw is back.
2013's Fast & Furious 6 introduced Owen Shaw (Luke Evans), an international criminal that was unlike anything Dom and his crack team of hot wheelers had ever faced before. After Owen's defeat, big brother Deckard (Jason Statham) set out for revenge in Furious 7 but was imprisoned for his efforts.
While it's unknown and unlikely Luke Evans will return in Furious 8, Statham confirmed he'll be back. He's not quite done with Dom, yet.
And Charlize Theron is riding along.
After an explosive performance in Mad Max Fury Road, Oscar-winner Charlize Theron is continuing her action streak in Fast 8. No one besides the filmmakers know what role she's playing, but fingers crossed she's the third Shaw sibling. These movies are about family, after all.
Eva Mendes's Monica Fuentes matters again!
The feminine lead of 2003's 2 Fast 2 Furious, Eva Mendes played Monica Fuentes, a DSS agent who worked alongside Brian (the late Paul Walker) and Roman (Tyrese Gibson, also returning) to bust a Miami crime ring. She made a cameo in the post-credits scene of Fast Five but hasn't appeared since. But Fast 8 will be Monica's return to the Fast & Furious universe.
And the kid (who is actually a 33-year-old adult) from Tokyo Drift!
Sean Boswell, played by Lucas Black, was a troubled teenager sent to live with his army dad in Tokyo in The Fast & Furious: Tokyo Drift, the third entry that seemed so distant from the rest of Fast & Furious until Vin Diesel's cameo.
While Justin Lin stayed on through the franchise's most transformative iterations (Fast & Furious and Fast Five), Tokyo Drift still didn't feel important until the end of Fast & Furious 6, where Deckard Shaw is revealed to be Han's killer in Tokyo Drift.
Check out this fan-made edit that combines the two films:
Furious 7 saw Lucas Black's brief return (looking pretty much the same after nine years), but the actor is on board for the rest of the series, including Fast 8.
Fast 8 zooms in April 2017. And yeah, there's more on the way.