6 of the Best 2016 Movies You Didn't See
The best movies from last year you never knew you needed to see.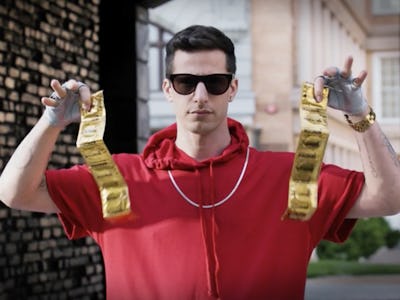 www.facebook.com/PopstarMovie
January is basically a cinematic dead zone. The end-of-year favorites from the previous month are still going strong (Rogue One: $700 million worldwide and counting) and industry insiders are busy running Oscar campaigns. In short: Theres not much to see. But that's not a bad thing.
January is the perfect month to catch up on all those movies you heard about but didn't have time to catch last year. There's so many hours in the day, and so many days of the year. Since 2017 is a new year, spend some of those hours in ways that won't be wasted by checking out some of 2016's best movies that flew completely under the radar.
1. Don't Think Twice
So many people try to ape Woody Allen's style that it's sometimes easy to miss the filmmakers that have taken the legendary writer/director's aesthetic and evolved it into something uniquely their own. Case in point: comedian Mike Birbiglia's Don't Think Twice, which Birbiglia wrote, directed, and starred in that tells the story of the cracks that form between the members of a small-time improv troupe when one joins the cast of an influential SNL-like sketch show.
It's Birbiglia's second feature film after 2012's delightful Sleepwalk With Me, but it moves beyond the simple autobiographical riffs into a seriously memorable exploration of performance, creativity, and fame. It'll make you laugh, but mostly it's the kind of movie that instantly makes you want to see what the filmmaker does next.
2. Popstar: Never Stop Never Stopping
Making movies must be simultaneously the most fun thing and biggest bummer ever for the members of the Lonely Island — the comedy trio of Andy Samberg, Jorma Taccone, and Akiva Schaffer. Their first films — the MacGyver spoof MacGruber and the twisted Evel Knievel love letter Hot Rod — were fairly big box office bombs despite being gut-bustingly hilarious. Both have since gained a cult following, which is exactly the legacy their latest movie, Popstar: Never Stop Never Stopping, deserves. The trio have been doing hilarious send-ups of pop music absurdity with SNL Digital Shorts and their albums for over a decade, so the feature length mockumentary, starring Samberg as an excessive Bieber-esque singer named Conner4Real, seems like a glorious culmination of their career that more people should be quoting verbatim.
3. Morris From America
Production company A24 picked up filmmaker Chad Hartigan's latest movie, the dramedy Morris from America, for an initial release on VOD before it bowed theatrically, which is possibly why it hasn't generated the buzz it deserves. Starring newcomer Markees Christmas as an impressionable hip-hop-loving American tween who has to move to Germany with his father (the effortlessly funny Craig Robinson), it's another of Hartigan's signature tales of a wayward soul just looking to understand and be understood. But with its embrace of hip-hop culture and culture clashes, and an incredibly honest performance by Christmas, Morris from America is a unique coming-of-age story in a genre where it seems like people have seen it all.
4. Hunt for the Wilderpeople
Marvel fans will no doubt want to find out who the manically talented director behind Thor: Ragnarok is after Marvel's latest superhero smash hits theaters November 2017. The first place to point them to would be New Zealand filmmaker Taika Waititi's Hunt for the Wilderpeople. Waititi has been subtly killing it for over a decade with movies like Boy and What We Do in the Shadows before getting his Hollywood call-up to the big leagues, but he's the type of director that can deliver regardless of how much money and clout you give him.
Wilderpeople, about a foster kid (newcomer Julian Dennison) and his reluctant foster father (a never-better Sam Neill) who absent-mindedly spark a nationwide manhunt after both wander off into the Kiwi wilderness, is just a straight-up heartwarmingly good time. Sometimes you need to have fun at the movies, and Waititi is the guy currently making it happen. Hopefully he can do the same for Marvel's God of thunder.
5. Everybody Wants Some!!
Viewers flocked to filmmaker Richard Linklater's 2014 film Boyhood, a fictional family portrait of almost documentary-like realism told with the same actors over the course of 12 years, but the same can't be said of his follow-up, Everybody Wants Some!!. Linklater teased fans that the film, which follows the days before a college freshman baseball prospect starts school in 1980, was a spiritual sequel to his 1993 film Dazed and Confused. This is a fact that's debatable: Dazed and Confused gradually became a cult favorite and wasn't the layabout genre classic it's seen as today. Everybody Wants Some!! has a few decades before it can earn the same genre-defining clout.
When you make a sequel — spiritual successor or not — be sure to make it the continuation of a hit movie. Still, Everybody Wants Some!! retains the front to back soundtrack and meandering joy of Dazed, and also, many of Linklater's other films. For Linklater, it's all about the in-between moments. Hopefully, in between the other movies people need to see, they'll discover this one.
6. Green Room
A24 had an impressive 2016, releasing bona fide eclectic showstoppers like The Witch, Swiss Army Man, The Monster, and the previously mentioned and woefully under-seen Morris from America. But the best movie they (or any studio for that matter) released in 2016 that didn't get much love was filmmaker Jeremy Saulnier's Green Room. Destined to be discovered by filmmakers looking to figure out how to make unorthodox thrillers, the reason droves of people didn't initially see it was probably because it's so hard to pin down. It's about a down-and-out punk band that find themselves locked by neo-Nazis in a backstage area after witnessing a murder, but that simple blurb masks its complicated nuances.
Is it horror? Is it suspense? Is it even maybe a musical? It's basically all of those things, and more. But what it undeniably is, however, is an incredible exercise in tension as the band has to brutally fight their way out. Every genre fan worth their salt will find this film impeccable and breathtakingly fresh at the same time.