'Morris From America' Continues A24's Winning Streak
Writer/director Chad Hartigan offers a great spin on the coming-of-age story.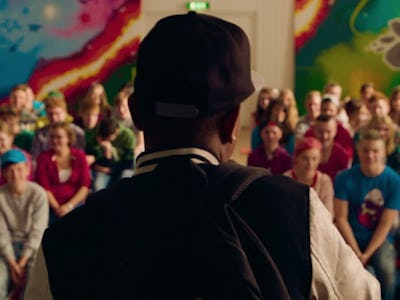 SXSW
It's hard out there for medium-sized production companies. When you don't have the full weight of a Warner Bros. or Universal or Paramount on your side it could be difficult to easily stand out from the crowd. Thankfully, mid-sized production companies like A24 get by on shrewd but varied decisions on the types of movies it slaps its name on before the credits roll. By cutting its teeth on unique auteur-driven movies like Spring Breakers and The Bling Ring, A24 has built itself into the key purveyor of just plain interesting times at the movies. If you go into an A24 movie blind, chances are you'll see something unlike you've ever seen before, and it's getting noticed. Their one-two punch of Room and Ex Machina made a splash at this year's Academy Awards. And now there's Morris From America, which premiered at Sundance and just played the SXSW Film Festival.
Morris From America is director Chad Hartigan's third feature film. His second, 2013's This Is Martin Bonner, indicated that he was the go-to American filmmaker for subtle, un-flashy character dramas about alienation and dislocation. Where Martin Bonner could have been written off by some as an overly slow dissection that was too arty for its own good, Morris From America comes across as a more accessible and lighthearted but no less resonant version of a similar story.
Just like the subdued but revelatory themes Hartigan plays around with in his newest film, so goes the seemingly astute mantra of A24. No matter whether their movies are about girls who take to a life of crime while on spring break, or an antiquated horror story about colonial American witches, or a fish-out-of-water story about an African-American kid and his father living in Heidelberg, Germany, the fact that these stories may not be studio-friendly is secondary to the evocative subject matter they cover.
Morris From America stars Craig Robinson as the single father and newcomer Markees Christmas as the titular American living abroad. Hartigan frames his movie as a universally relatable coming-of-age story despite its European twist, one whose narrative beats are nothing we haven't seen before in similar fare. But all of it rings true with fully realized and heartfelt archetypal moments. There's the road trip, a triumphant you-can-overcome climax, the father and son heart-to-heart angle, Morris' struggles with growing up and expressing himself through rapping, and Morris' juvenile romantic adventures with a blonde-haired German girl named Katrin and the immature male rivalry that follows.
It all flows with an unseen energy, perhaps because it's mostly heard. The film is awash in Morris' favorite hip-hop tunes, and the hilarious banter between Christmas and Robinson's characters carries with it an informal ease that brings home their unconditional connection. It's unmistakably one of the best details of the movie, and pulled off so well because Hartigan is the type of writer and filmmaker that knows how to listen to his own characters. In Morris From America, the dialogue between Robinson's father character and Morris, or between Morris and his German teacher (played by Carla Juri), or between Morris and Katrin forms the rhythms of its own kind of freestyle.
Freestyle is also a good way to frame A24. There's no restrictions, no serious rules or techniques that they seem to employ other than making movies you probably wouldn't be able to see anywhere else. Morris From America is simply another movie in a long line of that kind of story. We can't wait to be surprised again and again in the future.