Will Mike Birbiglia's 'Don't Think Twice' be the 'Fame' of Improv Comedy?
The trailer for Mike Birbiglia's newest film premiered at SXSW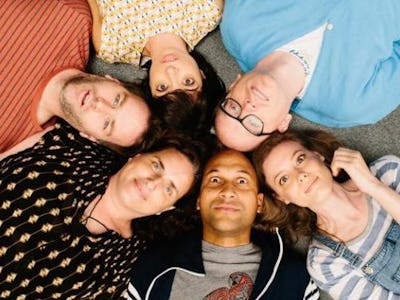 The Film Arcade
Mike Birbiglia has moved past his stand-up origins to become something more akin to a troubadour. His last film, which he wrote and directed, was 2012's, semi-autobiographical movie, Sleepwalk with Me. Now the trailer has premiered for his next directorial venture, Don't Think Twice.
Don't Think Twice is about a New York City improv troupe that unexpectedly gets the chance to audition for a fictional show called "Weekend Live", a non-copyright-infringing version of Saturday Night Live. The drama intensifies when only a few members of the improv troupe have a chance to audition.
The film stars notable improv comedians like Key and Peele's Keegan-Michael Key, Inside Amy Schumer's Tami Sagher, and UCB's Chris Gethard (Broad City). Rounding out the cast is Kate Micucci (Another Period), Gillian Jacobs (Community), and Birbiglia himself, who is also writing and directing the film.
Don't Think Twice will continue Birbiglia's fascination with his own history, turning his life experiences into comedic drama. He's done so in the past with his one-man theater performances like My Girlfriend's Boyfriend and Sleepwalk with Me Live. The real question is: what Don't Think Twice will do for the Improv Community scene? The film could shine a light on the dark underbelly of failure and success behind the risky world of comedy.