Official Russian Foreign Policy Now Includes Bad Memes
Has the global meme war begun?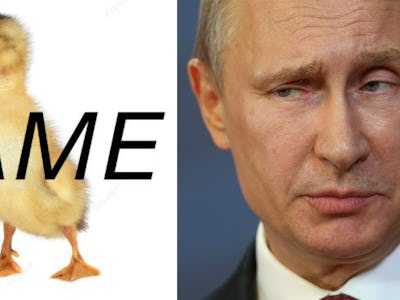 Getty Images / Sean Gallup
On Thursday, the Obama administration sanctioned Russian individuals and entities involved in cyberattacks and hacking regarding the 2016 election, and the official Russian Federation diplomatic corps responded with a lackluster meme, via the Russian Embassy, to the UK's Twitter account. This comes after a CIA report from earlier this December concluded that Russian hackers indeed influenced the election to favor Donald Trump. Meanwhile, the Russian Embassy to the UK's response to the sanctions has signified that the organization has now effectively made shitty memes part of its foreign policy.
After the news broke, the Russian Embassy based out of London expressed its dissatisfaction with President Obama's actions. But instead of issuing a formal statement or press release, the organization responded on Twitter. It likened the expulsion of people from the country to "Cold War deja vu" along with adding an image of a duckling with an italicized "LAME" transposed on top. Lame duck, get it kids?
While the Twitter account has been mainly used to supply information on the conflict in Syria from a pro-Russian point of view, it looks like whoever runs the account got a little messy with this budget meme. Hell, even calling it a meme is a stretch. But obviously there was some semblance of thought behind the chosen image, effectively introducing a shoddy use of the internet language to Russia's foreign policy.
Now, internet culture is definitely a force to be reckoned with. Trolls from 4chan dramatically changed Pepe the Frog from an emotion-expressing reaction image to a white supremacist figurehead. But the Russian Embassy's sad attempt is just downright embarrassing. It's perhaps even worse than back in 2013 when Republican politicians ruined the doge meme.
It's unclear whether or not an American agency will retort with another meme, but hopefully it won't be as awful as this one. The country's dignity depends on it.