How Russian Hacks Helped Donald Trump Win the 2016 Election
Hackers broke into both the RNC and DNC, but only one side got burned.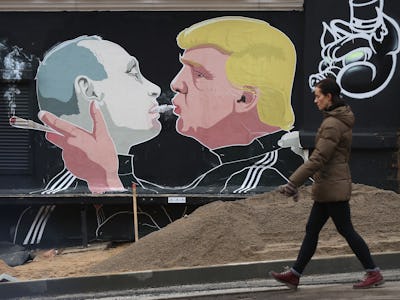 Getty Images / Sean Gallup
On Friday evening, the Washington Post reported that a secret CIA investigation had concluded that Russian government hackers deliberately influenced the 2016 election to favor Republican presidential candidate Donald Trump. Russian involvement in the election has been suspected for the better part of the year, but the CIA's investigation is the national intelligence agency's first acknowledgement that the Russians' meddling directly benefited President-Elect Trump.
"It is the assessment of the intelligence community that Russia's goal here was to favor one candidate over the other, to help Trump get elected," a senior U.S. official briefed on an intelligence presentation made to U.S. senators" told the Washington Post. "That's the consensus view."
The CIA did not release any intelligence as to whether hackers directly disrupted electronic voting systems on election day, as officials previously feared. Instead, the intelligence agency reported that state-level hackers hacked both Republican and Democratic organizations before the election, but only released findings that harmed the Democratic party.
Trump immediately shot back, opening up a rift between his transition team and the intelligence agency he will inherit this January.
"These are the same people that said Saddam Hussein had weapons of mass destruction," a spokesperson for Trump's transition team said, and told reporters it was time for everyone to "move on."
Russian hacking first became a factor in the 2016 election when a hacker named Guccifer 2.0 broke into the Democratic National Committee's computer systems and released a series of private reports. At the time, Guccifer 2.0 insisted he wasn't a Russian agent, but American security firms thought otherwise. It turns out, Russian hackers also breached the Republican National Committee, but did not release any damning information, according to the New York Times. Despite the intelligence community's insistence, Trump remained unconvinced that Russia gave him a hand in any way.
"It could be Russia," he told Time magazine. "And it could be China. And it could be some guy in his home in New Jersey."
Government officials noted that there still is one piece missing to the puzzle: there's no specific intelligence that shows Russian government officials told the hackers responsible for the DNC and John Podesta email hacks to hand over that information to Wikileaks, which gleefully published information that directly impacted the Democratic party. Still, the Post noted that Russian President Vladimir Putin often uses middlemen in the grey area between official government employees and everyday civilians (digital mercenaries, basically) to participate in high-level hacks, so he can deny Russian involvement afterward. Intelligence officials told the Post that the people who leaked the DNC files and Podesta emails were "one step" removed from the Kremlin.
Julian Assange, the founder of WikiLeaks, claimed that the "Russian government is not the source."
Trump hasn't had much of a problem with the possibility that a foreign power interfered with American democracy before — in July, he invited Russia to hack former Secretary of State Hillary Clinton's emails. He also doesn't seem to have a very comprehensive grasp over what cyberwarfare exactly is, so it's unclear if Trump fully understands what direct Russian cyber attacks mean for geopolitics.