Debbie Reynolds Dies at 84, Hours After Carrie Fisher
Reynolds suffered a stroke at Fisher's home.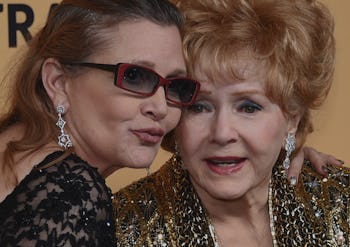 Getty Images / Ethan Miller
Debbie Reynolds, Hollywood actress and mother to Carrie Fisher, died on Wednesday at 84-years-old after suffering a stroke. Reynolds's death came just one day after Fisher's, who died on Tuesday after suffering a heart attack.
Todd Fisher, Reynolds's son, told TMZ that minutes before her stroke, she said: "I miss her so much, I want to be with Carrie." At the time, Reynolds was at Fisher's home, planning her daughter's funeral. Sources speaking to the outlet claim Reynolds suffered several strokes this year, and Fisher's death may have been too much to cope with.
"She held it together beautifully, obviously, for the last couple of days, but she was under a lot of emotion and stress from the loss [of Carrie] and it's pretty much what triggered this event," Todd Fisher told E! News.
Debbie Reynolds had a long and successful career, starring in Singin' in the Rain, How the West Was Won, and more recently playing Debra Messing's mom in Will and Grace. Earlier this year, she was awarded the Academy Awards Jean Hersholt Humanitarian Award in recognition of her work as a founding member of The Thalians, a charity founded in 1955 that focused on mental health issues.
Her daughter, Carrie Fisher, passed away after suffering a heart attack on December 23, as her flight from London was arriving into Los Angeles. She passed away four days later. Famed for her role as Princess Leia in Star Wars, Fisher also starred in When Harry Met Sally and Blues Brothers. She recently starred as Rob Delaney's awful mother in the Channel 4/Amazon show Catastrophe. Her part in the upcoming Star Wars movie had already finished filming.
Debbie Reynolds had a complicated and, at times, strained relationship with her daughter. Fisher was catapulted to fame at just 21 when she starred in the original Star Wars movie. During her twenties, she gradually distanced herself from Reynolds, refusing to speak with her as she sought to carve out her own identity. Around this time, Fisher found herself combatting drug addiction, checking into rehab at age 28.
Writers speculated that Fisher's semi-autobiographical novel Postcards from the Edge, developed into a film in 1990, depicted the pair's relationship. In the film, Meryl Streep returns from rehab to her famous mother's house. When asked about the link in an interview, Fisher told Entertainment Weekly: "I wrote about a mother actress and a daughter actress. I'm not shocked that people think it's about me and my mother. It's easier for them to think I have no imagination for language, just a tape recorder with endless batteries."
Over the years, the two slowly warmed to each other. "It took like 30 years for Carrie to be really happy with me," Reynolds told People.
By the end of their lives, the pair had become very close. When Reynolds received her Academy Award for humanitarian causes, Fisher commented: "I have no idea how she did all the things she did."