Carrie Fisher's Most Iconic Non-'Star Wars' Scenes
The beloved actress was a lot more than just Princess Leia.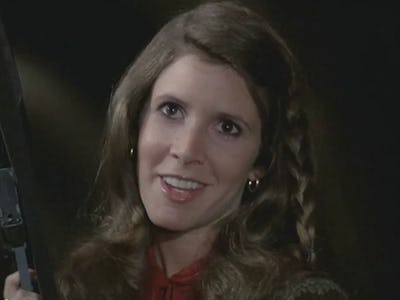 Universal Pictures
Carrie Fisher will forever be best known for her iconic role as Star Wars' Princess Leia, but the actress, who died on Tuesday following a heart attack, has a lengthy list of accomplishments that didn't take place in a galaxy far, far away. Fisher starred in a host of beloved '80s comedies including The Blues Brothers, When Harry Met Sally, and Hannah and Her Sisters, and made dozens of memorable guest appearances on television throughout her career.
Fisher first became a star in her late teens, and became a worldwide icon when Star Wars: A New Hope was released in 1976. While Fisher stayed away from mega-budget space operas following the original trilogy, she made an indelible mark in nearly every film she was in, despite her public struggles with addiction and bipolar disorder.
Here are just a few of Fisher's most iconic acting roles outside of Star Wars.
Lorna, Shampoo
Fisher made her on-screen debut in Shampoo, a 1975 satirical rom-com starring Warren Beaty as a Beverly Hills hairdresser. Fisher only appears in a couple scenes as Lorna, and she grills Beaty after playing tennis at a swanky house. Even this early in her career, Fisher's take-no-shit attitude was in full display.
Mystery Woman, The Blues Brothers
As John Belushi and Dan Aykroyd try to complete their "mission from God," they're hunted by a mystery woman who's armed to the teeth and out for blood. Towards the end of the movie, we learn why she's out to get them: Fisher plays Belushi's jilted ex-fiance, and she is not to be messed with — even though she somehow forgives the man that blew her off.
April, Hannah and Her Sisters
Fisher played a frenemy of one of the titular Hannah's sisters, working as a caterer alongside Dianne Wiest in Woody Allen's 1986 comedy-drama. Fisher and Wiest's characters battle, subtly, for the affections of an architect, played by an unbilled Sam Waterston. Fisher appears to win out at first because, as Wiest's Holly pouts, she's "pushy."
Marie, When Harry Met Sally
In the comedy classic When Harry Met Sally, Fisher played one of the main couple's best friends Marie and Jess who are set up and fall for each other at a New Year's Eve party. They get engaged, but their bliss is almost derailed over a stupid wagon wheel coffee table — and a hilarious debate about good taste.
Rosemary Howard, 30 Rock
Fisher made a memorable guest appearance during the fourth season of 30 Rock, where she played Rosemary Howard, a pioneering writer that Tina Fey's Liz Lemon idolized. The role was amazingly self-aware. Fisher played with her own history as a trailblazing icon, and winked at her real-life struggles. "You're just like me," she tells Liz. "You wake up in the morning and smoke weed." This is what happens when you go with a hippie to a second location.
Mia, Catastrophe
Fisher played Rob Delaney's character's awful mother in the Amazon series Catastrophe. (She was actually flying back to LA after shooting scenes for Season 3 in London when she suffered a heart attack). Fisher's callous, detached character really makes her mark when she hilariously tries to convince her son that he doesn't have to deal with this "foreign baby."