These Aren't the Charities You're Looking For
The British government ruled that Jediism wasn't a religious charity.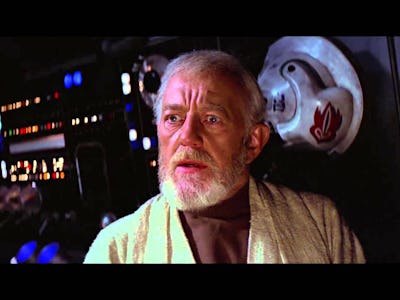 Although the heroes of Rogue One were able to triumph over an evil Empire in the latest Star Wars film, a former empire here on Earth appeared to best some real-life Jedi. The British government ruled that Jediism isn't a religion — at least for charity purposes.
Jediism is a decades-old faith that officially boasts 175,000 adherents — though only it's likely that only a small percentage of that number seriously practice the religion as inspired by the classic sci-fi franchise. The most notable group of adherents, the Temple of the Jedi Order, recently petitioned for charity status with the Charity Commission for England and Wales.
But, on December 16, the commission decided that it would not register the ToTJO, as it's known — and by extension, that Jediism wasn't a real religion. They didn't do this because they're a bunch of Sith who are somehow carrying out Order 66 even though it was executed a long time ago in a galaxy far, far away. They're just bureaucrats — and Jediism isn't organized enough.
"Jediism is not sufficiently structured, cogent or serious to advance religion; nor to advance moral or spiritual improvement in a charitable manner" the decision reads, adding that the Jedi's belief system is "merely a collection of interconnected ideas based on the Star Wars universe, rather than structured cogent and serious religion."
Due in large part to that lack of organization, the commission said it was "not satisfied that ToTJO is established for exclusively charitable purposes for the advancement of religion and/or the promotion of moral and ethical improvement for the benefit of the public."
"To them, without structure, it's just a bunch of people having conversations that could lead anywhere," wrote Ally Thompson, one of the leaders of the Jedi Church — a seperate group from the ToTJO — on Facebook.
"ToTJO is looking at this as an opportunity to open up talks about their outward training program. I'd say it's actually become quite good for the Order's discussion on future endeavors," Thompson wrote in another comment, explaining that it wasn't the Jedi way to protest the decision.
"Jediism's strength is that we do not react based on emotional pulls toward some perceived slight. Instead, we evaluate and determine where to go from here," she explained. "Recognition as a charity is not the only way Jedi can impact the world around them, it's just a nice thing to have so that we can build better cohesion amongst our fellow Jedi."