Obama Enacts Unprecedented, Irreversible Defense of Environment
It's a permanent ban of offshore drilling in 98 percent of federally owned Arctic waters.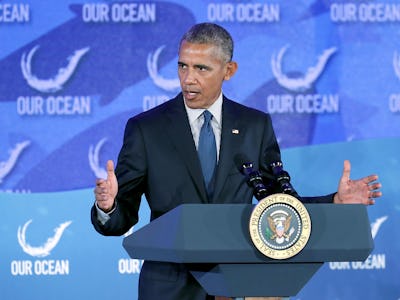 Getty Images / Chip Somodevilla
In less than a month, Barack Obama will no longer be the President of the United States. Before he goes, he's decided to enact some major, unprecedented environmental protections that his successor won't legally be able to undo. On Tuesday, Obama announced what amounts to a permanent ban on offshore oil and gas drilling in 115 million acres of Arctic waters and 3.8 million more along the Atlantic Coast.
"A ban on drilling in Arctic waters helps protect the planet we share," Obama announced in a tweet. The president worked alongside Canadian Prime Minister Justin Trudeau, whose government will enact a similar ban soon, and in a joint statement the pair said they were "proud to launch actions ensuring a strong, sustainable and viable Arctic economy and ecosystem."
The Atlantic coast section runs from Virginia to Maine and covers deep sea coral canyons. The Arctic section runs along the bulk of the Alaskan coast, comprising 98 percent of federally owned Arctic waters. This area needs protection from the oil and gas industry due to "the vulnerability of these ecosystems to an oil spill," the statements says, noting that we don't really have the capacity to clean or stop any spills should they occur.
Obama was able to set aside this large swath of ocean — an area that's important to Indigenous communities and home to endangered species like polar bears and bowhead whales — thanks to a 63-year-old law. An obscure provision of the 1953 Outer Continental Shelf Lands Act allows the president to unilaterally act to declare certain federally owned waters off-limits to oil and gas production.
The great twist, though, is that there's no provision for the president to reopen closed-off waters for drillings. It's an environmental no-backsies.
Of course, the waters are only legally protected — and laws can be challenged or changed. President George H.W. Bush withdrew millions of acres of ocean from oil and gas leasing, but he put a decade time limit on the ban. During his time in office, President Bill Clinton extended his predecessor's act, making 300 million acres of marine sanctuary safe from oil and gas drilling. However, George W. Bush was able to move the expiration date closer during an oil crisis. Obama's action is a little different and possibly safer — there's no expiration date for his ban.
President-elect Donald Trump, a man who thinks climate change is a Chinese hoax and is staffing his cabinet with fossil fuel executives, will probably try to fight Obama's good deed once he assumes the office. He'll have to mount a legal challenge — and anyone who cares about the environment should have their fingers crossed that it doesn't work.
The fossil fuel lobby, meanwhile, is not pleased.
"We're hopeful that the Trump administration will take a look at this to reverse that decision and we look forward to working with them to make that happen," Andrew Radford, a senior policy adviser with the American Petroleum Institute, told The New York Times.
Remember this quote when there's a massive oil spill in the Arctic sometime in the future.