Leaked Tim Cook Q&A Reveals Why He Met With Trump
Cook met with Trump earlier this month.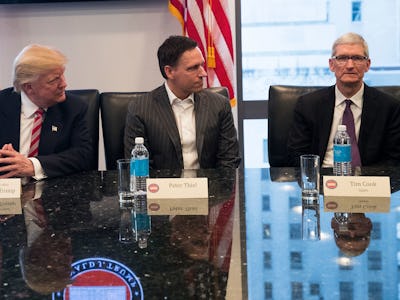 Getty Images / Drew Angerer
Donald Trump caused a stir when he met with some of the biggest names in American tech earlier this month. Coordinated in part by Peter Thiel, the libertarian co-founder of PayPal who has acted as a link between Silicon Valley and Trump Tower, the meeting brought together liberals and conservatives around the table to discuss what the next four years may look like for tech.
Among those in attendance was Tim Cook, and a circulated photo shows the Apple CEO looking somber as Trump and Thiel turn their gaze towards his direction. Cook was listed as a potential vice president for Hillary Clinton, and he seems an unlikely fit for Trump's brand of right-wing populism.
So, why did he go? TechCrunch obtained a leaked version of the question-and-answer session with employees that was released on Tuesday, which reveals Cook's thinking on the Trump administration and how Apple can best respond to governmental changes to enact change.
Last week you joined other tech leaders to meet President-elect Donald Trump. How important is it for Apple to engage with governments? It's very important. Governments can affect our ability to do what we do. They can affect it in positive ways and they can affect in not so positive ways. What we do is focus on the policies. Some of our key areas of focus are on privacy and security, education. They're on advocating for human rights for everyone, and expanding the definition of human rights. They're on the environment and really combating climate change, something we do by running our business on 100 percent renewable energy. […]
Cook goes on to explain that he has never found sitting on the sidelines as an effective way of bringing about change. That means, even when the European Union is asking Apple to pay $14.5 billion in taxes to Ireland, it stays engaged and makes the case for why it does not think that's a good idea.
In his time as CEO, Cook has found himself at the center of a number of political debates. When Apple refused to unlock the San Bernardino shooter's iPhone, it sparked a flurry of discussion around privacy. Similarly, Cook has continued Apple's environmental efforts, telling investors in 2014 to "get out of this stock" if they denied climate change and only cared about return on investment. Trump is the latest debate Cook has found himself at the forefront of, but if his response is anything to go by, Apple's policy over the next four years will be to engage rather than shun.