New 'Pokemon GO' Update Reveals Apple Watch Version Is Near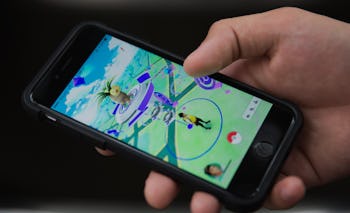 Getty Images / Tomohiro Ohsumi
One of 2016's biggest games got an update on Monday that hints at future features coming very soon. Pokémon GO, which was updated to version 0.51.0 by Niantic, seemed like a routine bug fix update, but new code suggests that the previously announced Apple Watch companion app is just around the corner.
Niantic first announced an Apple Watch version of its game at the September iPhone 7 launch event. The app will show fitness information, nearby Pokémon, upcoming PokéStops, and how much progress the player has made towards hatching an egg or progressing up a level. There were concerns last week that Niantic may have pulled the plug, but a tweet from the official Pokémon GO account confirmed that the app was still on its way.
The new code, discovered by The Silph Road, makes reference to faces, interactions, and appears to contain the ability to know when a watch is paired and send over notifications when appropriate. The app also seems to have the ability to sync the amount of distance walked (vital for hatching eggs and the like), but it's not clear whether the watch itself will track this distance, or if it will rely on the phone's sensors.
Other updates in store appear to include avatar customizations for gloves and socks, as well as new variants of shiny and gendered Pokémon. It's unclear how, if at all, these features will be implemented, and while the code exists, it's not a firm guarantee the features will ever be activated.
It's been a busy month for Pokémon GO. Beyond bug fixes, Niantic took the wraps off the first Generation 2 Pokémon in the game. Unfortunately, the update left some players a bit bitter after it emerged they would have to put in some legwork and hatch the eggs needed to expand their Pokédex.
Niantic said in September that the Apple Watch version would release this year. There's only a few days of the year left, but the developers still have time to drop off a little end-of-year surprise. Considering the avalanche of drama that has been 2016, it sure would be a nice gesture.