How to Download the New 'Pokemon Go' Update Today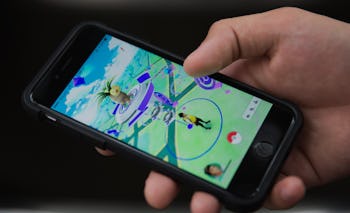 Getty Images / Tomohiro Ohsumi
Update, 1:22 p.m.: story has been updated with new information throughout.
One of the world's most beloved games of 2016, Pokémon Go, is set to receive a major update on Monday as new Pokémon characters prepare to hit the virtual streets — and it's all starting with Pichu and Togepi. Developer Niantic revealed last Wednesday that the new update will bring "the addition of more Pokémon to Pokémon Go." According to a video made public on Monday afternoon, Togepi and Pichu will be the first Generation 2 characters in the wildly popular mobile game, with more on the way.
Oh, and from December 12 to December 29, trainers might be able to find a special-edition Pikachu with a 'festive hat.' It looks like many of the Gen 2 Pokémon will be coming out of eggs, so make sure to hit as many Pokéstops as possible to try to get some new monsters.
"As we race toward 2017, we can't help but feel grateful for the support and reaction the Pokémon GO community has given us, and we're delighted to start rolling out select Pokémon for them to hatch," Kei Kawai, director of product at Niantic, Inc said. "We're also looking forward to celebrating the season with our community by introducing a Pikachu wearing a festive hat, providing Trainers the opportunity to get out and explore their neighborhoods with friends and family as they gather for the holidays."
Check out the release video below.
Chances are, downloading the new Pokémon Go update will be a relatively straightforward process. iPhone players may receive the game as part of Apple's App Store automatic updates, but to force a manual check, users can visit the "App Store" app, touch the "Updates" tab, wait a few moments, and tap "Update" on any pending Pokémon Go changes.
For Android, the process will be fairly similar, but may vary depending on individual device. If you don't have automatic updates enabled, visit the "Play Store" app, then tap "Menu," then "My Games and Apps." Any apps with a pending update will show up with an "Update" label, where you can force the Pokémon Go update without waiting for Android to step in.
Alternatively, Niantic could push out a server side update. In that case, grabbing the latest Pokémon may not require any user intervention: firing up the game could push the newest additions to your device. This would be an ideal solution, as nobody wants to fiddle around with store updates to grab a Togepi or catch a Cyndaquil.
It's not clear which Pokémon will be added, but the second generation is a fairly safe bet. Until now, Niantic has stuck with the original set of creatures familiar to most that experienced the franchise's extreme levels of hype around 15 years ago. Ditto, the most recent addition to Pokémon Go, stuck to the proven formula and rounded off the list of non-legendary original Pokémon.
There'll be plenty of places to try out your new Pokémon. Last week, Niantic announced that 10,500 Sprint, Boost Mobile and Sprint at Radioshack stores across the U.S. would transform into Pokéstops and gyms starting December 12. Players can battle it out with their new Pokémon at Sprint-sponsored gyms, taking on new rivals while charging their phone at the store's power points.
It's not the only partnership Niantic has on the cards. A leak last week revealed a Starbucks collaboration, after a Reddit user shared what seemed to be a confidential memo, outlining a new plan to turn the majority of Starbucks outlets into either Pokéstops or gyms. That leak materialized as a plan to bring Pokémon-themed frappuccinos nationwide, matched up with Pokéstops and gyms for Starbucks fans to visit the store and catch 'em all.