Your Local Starbucks May Become a PokeStop on Thursday
Rumors circulating have players scrambling.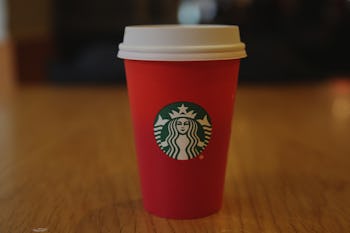 Getty Images / Spencer Platt
Computer screenshots leaked onto the internet this week show that Pokémon GO is working with Starbucks for the game's update coming on Thursday. Photos posted to Reddit are fueling rumors about company-owned Starbucks locations turning into PokéStop, leaving players frenzied to find their nearest company-owned Starbucks location.
The photos making the rounds on Reddit show a memo marked "confidential" put online for Starbucks baristas and stores across the country, detailing that "Pokémon GO is about to expand with new Pokémon and a new Starbucks beverage!"
The official-looking announcement says that Starbucks is collaborating with Pokémon for the December 8 Pokémon GO update. Supposedly, a "majority of company-operated stores across the United States will be turned into a PokéStop or Gym." Along with a potential plethora of new gyms, the pairing will also result in a new Starbucks drink: the Pokémon GO Frappuccino.
A picture of what a Pikachu looks like and definitions for "Pokémon GO," "Pokémon," "PokéStop," and "Gym" are included in the release, just in case Starbucks baristas are baffled by the (potential) sudden increase in Pokémon-playing customers.
The "Barista Need-to-Know" memo lets employees know that yes, "we anticipate our participation in the game will encourage more customers to visit your store and increase number of transactions." It also instructs that "all partners should make, taste, and describe the Pokémon GO Frappuccino by open on Thursday, December 8."
"Starbucks has nothing to share at this time," a Starbucks spokesperson told Inverse.