You Need to Catch Ditto in the Latest 'Pokémon Go' Update
A vital companion in combat.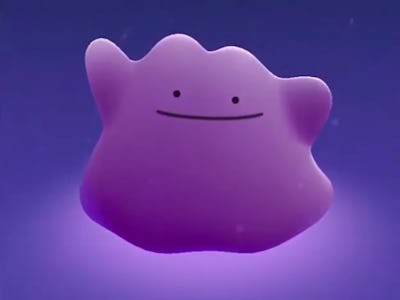 BenTimm1/YouTube
After months of speculation, waiting, half-truths, and rumors, Ditto has officially surfaced in Pokémon Go. Fans of the augmented reality creature catching game had been clamoring for the shapeshifting monster ever since the game's release in July, with Ditto one of the few missing in-game Pokémon that was also part of the original 151-strong roster. The update doesn't disappoint, either — the Pokémon is able to transform into rivals during combat, making it a critical tool in gym battles.
On Wednesday morning, reports came flooding in from Reddit and other social media sites that Ditto was appearing in players' daily catching sprees. User S4mble said that, after catching a Rattata with 200 combat points, it transformed into a Ditto.
It appears that after catching a random, wild Pokémon, the ball will sometimes appear with an "Oh?" above it, similar to the interface used when an egg is hatching. The caught Pokémon will then transform into a Ditto. Right now, though, there doesn't appear to be a way to know for sure which wild Pokémon are Ditto, so the best strategy is to stock up on Pokéballs and get catching anything you come across.
Ditto is famous for its ability to transform into any other Pokémon, mimicking its opponent. That ability has reportedly transferred over into Pokémon Go: Reddit user sentdex claimed that after catching a Ditto with 480 combat points, the player was able to go straight to a gym and battle an Exeggutor with 1,800 combat points. When battle commenced, the Ditto transformed into an Exeggutor with 2,133 combat points, and the player easily won the battle. The Ditto won't always beat its rival on stats, though: user nowis3000 claimed that, against a 2,100 combat point Muk, the player's Ditto transformed into a Muk with just 970 combat points.
The update will be sure to satisfy hardcore fans of Pokémon Go, but whether it will bring players back is another question. The game shot to stardom over the summer, shooting past Tinder and rivaling Twitter in Android app install numbers. Just 47 days after release, though, the game's longevity was called into question when a report revealed that 12 million players had already abandoned the game.
Fans complain about a lack of updates and communication from developer Niantic. While Ditto is a welcome addition, lapsed Pokémon catchers may need a little more convincing that the game is worth jumping back into.