'Pokemon Sun' and 'Pokemon Moon' Reveal Starter Pokemon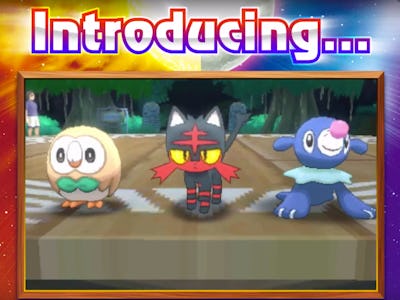 Twitter.com/Pokemon
It's been twenty years since Nintendo unleashed Pokemon on the GameBoy, ushering in a phenomenon. Now the franchise continues with the upcoming Pokemon Sun and Pokemon Moon arriving on the 3DS November 18. As is tradition in the games, players start with three base-level creatures (called "Starters") that they'll train and evolve into formidable fighters. Because unlike our real world, in thePokemon-verse not only is that kind of behavior tolerated, but it's basically a national pastime.
Typical of these games, each starter Pokemon in Sun and Moon sports a specific "type", an earthly element that functions sort of like rock-paper-scissors but gets complicated when other elements are challenged.
Without further adieu, meet your new little buddies you'll see turn savage in the new games:
Rowlet
Perfectly round, whose facial expression is exactly like your idiot friend eager to tell this one good joke he found online, Rowlet is a grass Pokemon modeled after an owl. It's also a flying type, so consider his benefit of fast transport when you're making your selection.
Litten
Looking straight at you with boredom like it's got better things to do is Litten, a household cat Pokemon with fire abilities. Considering the whole internet's fascination with cats it's a sort of wonder why a Pokemon like Litten hasn't been introduced already.
Popplio
Just look at this son of a bitch. The most adorable little seal straight out of a Disney cartoon, Popplio is a water-based (obvi) Pokemon. He's cute and I want him.
The official Pokemon Twitter uploaded one of the first gameplay videos, so take a gander while you consider what Pokemon you'll use for a game that isn't coming out for another seven months.
Pokemon Sun and Pokemon Moon will be released on November 18.