Batman Was Reborn and Changed Forever in 2016
From 'Dawn of Justice' to Telltale, here's how Batman spent 2016.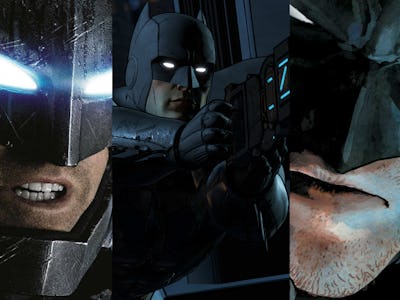 Batman is the everlasting symbol of human resiliency in American pop mythology, but even the World's Greatest Detective isn't immune from suffering emotional ruts. After beginning 2016 in one of mainstream Hollywood's loudest duds, Batman v Superman: Dawn of Justice, Batman — along with the rest of the DC Universe — entered a "Rebirth" that allowed the character's relevancy to finish the year strong for a hopeful 2017.
Here's how Batman spent his 2016, from comics to movies to video games.
Movies
Batman got off on the wrong foot in Batman v Superman: Dawn of Justice. While fans and critics generally agree Ben Affleck pulled off an exceptional performance as a boozy Bruce Wayne and a vengeful Batman, it was the film itself that was taken to task. Overwhelmingly bleak to the point it made Superman uninspiring, Dawn of Justice wasn't the superhero film many people wanted in an already ominous mood. Now, after everything that's happened, a superhero movie being too dark is the least of concerns.
Towards the end of the summer, the DC Extended Universe reinforced its own "It's all connected!" ethos by shoehorning in lengthy cameos of Batman into another messy blockbuster, Suicide Squad.
Thankfully, on the flipside, there was the animated movie Batman: Return of the Caped Crusaders; a new adventure continuing the continuity of 1966's Batman TV series, many the show's original cast return to reprise their classic roles for a delightful 90 minutes. Hopefully, this upswing continues: Trailers for Justice League and The Lego Batman Movie promise a much more upbeat and fun Dark Knight. Who knew Batman could crack a joke?
TV
The divisive Gotham on FOX continued its second season in a back-half arc titled "Wrath of the Villains." Some of Batman's best villains showed up in this period, from Azrael to Mr. Freeze, but the show still lacks the one thing people would tune in en masse for: Batman.
Season 3 also began in the fall and will return in 2017.
As far as the united Arrowverse is concerned, Batman doesn't exist. Unless he does, if Supergirl's second-hand account of a "nutjob" her cousin worked with on one occasion is to be believed. Also, Wayne Tech will merge with Queen Inc. … unless Barry messes with the timeline again. On the animated front, Justice League Action premiered in mid-December, and it's already the most fun DC show on TV right now, until Young Justice returns, of course.
Comics
With the end of the New 52 also came the end of Scott Snyder's outstanding run on Batman. After Rebirth in June, several new Batman books started up: Batman, with Tom King succeeding Snyder's spot; the return of Detective Comics written by James Tynion IV; and Scott Snyder's All-Star Batman, which Snyder pairs himself with a murderer's row of acclaimed artists in telling a grindhouse-inspired Batman tale so unlike the urban detective stories the Dark Knight normally stars.
Tom King's Batman introduced Gotham and Gotham Girl, the mysterious sibling meta-humans who tried (and, arguably, failed) to become Gotham City's newest protectors. Now, Batman has tried (and, arguably, failed) to form his own Suicide Squad in a mission to take down a reinvigorated Bane in Santa Prisca. In Detective Comics, Batman formed another unique team with Batwoman, and after suffering the loss of Timothy Drake, took on Hugo Strange's hostile takeover of the city. And in All-Star Batman, Batman fights his whole rogues gallery as his new trainee, Duke Thomas (yet to be named) also comes to his own.
There were also other noteworthy DC books featuring the Dark Knight. Namely, Red Hood and the Outlaws, Justice League, and even several issues of Peter Tomasi's Superman in the special arc "In the Name of the Father." And on top of all of that, Batman still had time to enter fun crossovers with the Ninja Turtles in the plainly-titled Batman/Teenage Mutant Ninja Turtles and with the Avengers (not the Marvel ones) in Batman '66 Meets Steed and Mrs. Peel. Not everything in Batman's comics were transformative, nor had to be.
Video Games
Although superheroes have largely abandoned triple-A gaming, Batman had one of the most refreshing interpretations in Telltale Games's Batman: The Telltale Series. A visual pastiche of fabled Batman storytellers like Christopher Nolan, Scott Snyder, Bruce Timm, Tim Burton, and Frank Miller, Batman's standalone game began pretty fine until it ended as one of the most explosive Batman tales of the year. The game reinterprets the of fabled Oswald Cobblepot, aka Penguin, as an old friend turned opportunistic corporate rival, cementing their dynamic as more than just superhero and supervillain.
In a year chock full of emotional distress, fun crossovers, and comic book resurgence, his standalone game made 2016 all the more worthwhile.