The Old School Batman, Avengers Crossover Was Great
Ian Edginton and artist Matthew Dow Smith explain how a match made in camp heaven can be great with the right sensibility.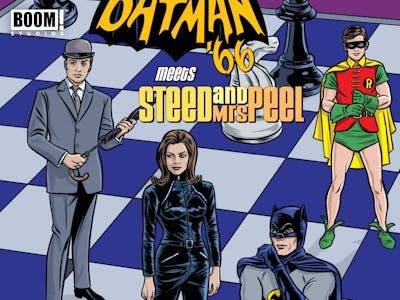 DC Comics
Batman is teaming with the Avengers — but it's not the only-in-dreams crossover that you think.
In a bit of clever nostalgia, a new comic book series from DC and Boom! Studios features the campy Adam West version of the Dark Knight joining forces with John Steed and Emma Peel of The Avengers, the sexy British spy-fi that dominated airwaves in the 1960s. In its most recognized form, The Avengers starred Patrick Macnee and Diana Rigg as a pair of oddball intelligence agents who fought robots, telepaths, and man-eating plants, all while looking sharp in cashmere and leather couture.
The book, Batman '66 Meets Steed and Mrs. Peel, isn't the first time that the forever-young comic book version of Adam West and Burt Ward's caped crusaders have crossed paths with a boomer-TV duo. In 2014, the two traded fists with Van Williams and Bruce Lee's vigilantes from The Green Hornet (in a continuation of their live-action episode, "A Piece of the Action"), and last year The Man from U.N.C.L.E. recruited Batman and the Boy Wonder for a mission. Besides his status as peak sixties camp, what is it about a Batusi-dancing Dark Knight that makes him groovy for crossovers?
"For a long time the '60s Batman was short-changed and ridiculed because it was campy," the book's, writer Ian Edginton, who wrote the 2003 crossover Batman/Aliens 2, told Inverse. "It was beneath us, like, 'Oh that's a kid's show.' But now we can watch it for what it is, for being entertaining and also the irony that's in it, and reading things which probably aren't there."
Alongside artist Matthew Dow Smith, the team behind the newest Batman '66 crossover talked to Inverse about the secret to pulling off crossovers, the book's aesthetic homages, and how humor can create an enduring legacy.
What's the secret to making them fun and interesting without relying on the gimmick?
Edginton: You've got to be aware that when you've got licensed characters, you're playing with somebody else's toys. They come with rules, and when you're done you have to put them back in the box, so you're aware of the limitations. It's very liberating because you can play to that character's strength. With Batman '66, and I hate to use this term, it's campy. It's day-glo and everybody knows it. With The Avengers, it's kind of surreal, a Britain that never was. And both interact well, so you just play off those relationships.
Walk me through the art style of the book. It's a big homage to pop art in overt and subtle ways, but it's also very modern.
Smith: I tried to, as best as I can, make it look as much like the show. Those shows are very theatrical, [so] the background is fun because they're set to look like actual sets. Everything is short hand in reality, like a play. I tried to design things to look like that, with bright colors and tone of a 1960s show.
It's funny, I'm aware of [the pop art influence], and it's sort of my artistic background, but I'm not leaning on that as much. I worry about just getting the lines on the page and let [colorist] Jordan [Bellaire] bring that aspect. The pop art stuff is coming more from Jordan, but you know it's part of the mix and it's definitely part of the artistic approach.
What kind of dynamic is in store with Batman and Robin and the Avengers? Is it a rivalry, a clash of egos, or is it a total unity?
Edginton: I don't think there's a rivalry, Batman's above that. It's definitely a cooperation, playing to strengths. What is interesting to me is Robin's introduced to another leather-clad lady. He's had Batgirl, he's had Catwoman, and there's Emma, who's very different. She knows her mind, independent, very old fashioned, but being [of] the '60s with the woman's movement. They interact well, I think the comedic and the fantastic mix in the middle. But there's no rivalry.
I can only assume, Ian, that as a British native you were a fan of The Avengers. How much of the show did you really know prior to the book? Did you have to do any research or re-watching?
Edginton: Yeah, I'm a sixties baby. I was born three years before Batman started. Batman and The Avengers on reruns was pretty standard. If you liked comic books, it became part of your DNA. We watched Batman as much as we watched The Avengers so I was pretty much on board.
I picked up the Blu-ray box set [of 'Batman'] to reacquaint myself. I sat down with my kids who are 6 and 9 and my little boy just lapped it up. It was surreal to be watching what I watched when I was his age and now we're watching it, and he loved it. It still works after all these years.
The Avengers had a changing line-up, not unlike those other Avengers. Why did you choose Emma Peel and John Steed? Why are they the most recognized?
Edginton: It's a classic pairing. No disrespect to anybody like Tara King or Cathy Gale, when you say "The Avengers," you know Steed, Emma Peele, that's their default setting, and I think it's because it just works. They interacted so well on and off-screen.
Not to diminish the others, but that's just when it was the perfect storm. Everything clicked. I know they ad libbed a lot of dialogue, so a lot of what you've seen is actually them bantering off each other, and I think that's what contributes to why their relationships onscreen work so well and makes it so memorable.
Was it also just a costumes thing? They were the most iconic visual pairing.
Smith: It's interesting that we all remember her in a leather catsuit. Correct me if I'm wrong but she's only in it for like two or three episodes. So it's interesting that that's our memory of her. One of the things I'm trying to do is have some of what we expect with the characters and still play around and have them in the other things she was wearing in the show. I now know more about sixties fashion than I ever thought was ever going to.
What is it like working under the DC brand? Currently, DC is going through the massive Rebirth, but Batman '66 is separate. Did they give you a lot of creative liberty as a result or did they look over your shoulder more?
Edginton: Not at all. Again, to work with these characters, you have to play within a circle. It's like two venn diagrams overlap, Batman in one, The Avengers in another, and that little overlap is our story. As long as we played by those rules, it was pretty much hands off. There were things like tightening up action scenes or just practical storytelling things, but other than that, nothing. I've worked for DC before, but this has been a dream job, I have to admit.
Smith: I've done a number of jobs like this for DC and they're always amazing, they feel like they leave you to do your thing, and if there's a big storytelling problem, they'll come in and help fix it. But for the most part, it's a dream.
Besides nostalgia, what is it about the 1966 Batman that allows him to endure and make him flexible for events like this?
Edginton: I think it's the humor. That makes it more accessible. A darker Dark Knight is quite attractable, but with the Adam West stuff, it was quite happy poking fun at itself but in a nice, gentle way. It wasn't cruel, it accepted the humor, and I think that plays a big part because it's an adapted character format. I think that's how it works so well.
Batman '66 Meets Steed and Mrs. Peel hits comic shelves June 8.
This interview has been edited for brevity and clarity.