Winter Wonderland in 'Overwatch' Is No Wonder
It sure is adorable though.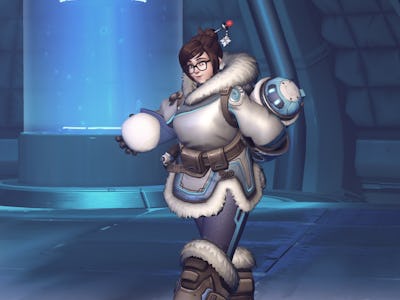 Nicholas Bashore
Blizzard has been hard at work putting quality content into Overwatch while building up a competitive community since the game released. These patches have been based around various seasonal or special events, bringing a themed brawl along with a set of limited-time Loot Boxes. The latest is Winter Wonderland, which arrived this week. It includes a fantastic array of cosmetic additions, but unfortunately the new Mei-themed brawl just doesn't live up to the high expectations set by Overwatch's Halloween event.
If you haven't had the chance to spend time with Mei's Snowball Offensive in the Arcade yet, here's how the new holiday brawl works. Two teams of six players each face off on the holiday version of the map Ecopoint: Antarctica as Mei in a series of single elimination rounds akin to the 3v3 Elimination mode introduced earlier this year. Instead of having access to her usual weapon in this 6v6 mode, you'll be using a single-shot snowball launcher that can K.O. with one hit.
There's a caveat though: The launcher has to be recharged from specifically designated piles of snow scattered about the map, and that's where the fun begins. Every shot counts — unless you happen to save up an Ultimate ability for a brief period of unlimited ammo, and, even then, shots are hard to land unless you're close to the player you want to take down. The result is, well, about what you'd imagine. It's tense, hilarious, and there are far too many misses that your entire lobby is going to laugh about in chat.
That said, theres something missing from Mei's Snowball Offensive. Much like the Summer Games' Lúcioball, Winter Wonderland's Mei-centric snowball event doesn't really come close to the level of "different" gameplay offered by Overwatch's Halloween-inspired Junkenstein's Revenge brawl during the Halloween Terror event back in October. Unlike Junkenstein's Revenge, the new brawl doesnt introduce any new mechanics to the game in a creative, event-specific way. Essentially, it just sticks with the tried and true player versus player formula with a few modifiers. It's not bad; it just doesn't feel like something worth playing over standard Quick or Competitive Play.
Some of that has to do with Blizzard's map choice for Mei's Snowball Offensive though, which places 12 players against each other on a tightly packed map built for 1v1 and 3v3 engagements. Despite it's fitting theme, it just doesn't feel very festive or fitting for the ruleset that the new brawl adheres to. Using a map like Eichenwalde (which I still think deserved a festive overhaul) or King's Row would have given more room to maneuver compared to what Ecopoint: Antarctica offers, resulting in more grandiose snowball engagements.
The basic concept of Mei's Snowball Offensive is still entertaining. It's a jolly good time regardless of who you end up playing with, namely because of all the times you'll be laughing and screaming at your screen once you miss a snowball shot you swear landed. It's also in the Arcade this time around too, which means you'll be able to win a few extra Loot Boxes each week for winning. But it's still no Halloween event.