Everything You Need to Know About 'Overwatch' Winter Wonderland
Get ready for snowball fights, presents, and festivities.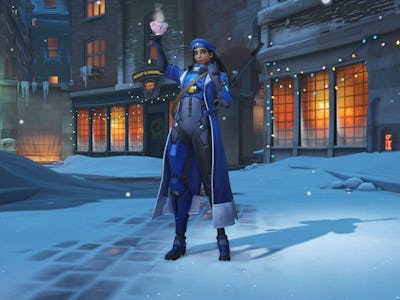 Nicholas Bashore
Overwatch has officially released its third seasonal event to celebrate the upcoming holiday season, complete with new skins, modes, and more for a limited time. Appropriately titled Winter Wonderland, the new event is like both the Summer Games and Halloween Terror before it, bringing a new Mei-focused Brawl to the Arcade and tons of gifts for players to unwrap for their favorite characters until January 2. Blizzard has also redone three maps, King's Row, Hanamura, and Ecopoint: Antarctica, filling them with holiday decorations and plenty of snowfall.
Currently the update is live on Xbox One, PS4, and PC. Here's everything you need to know.
Mei's Snowball Offensive
The main festive attraction in the Winter Wonderland update for Overwatch is the new competitive 6v6 brawl: Mei's Snowball Offensive. In this playlist, you'll be working together with five other team members to win rounds against your opponents in a single-elimination game mode. Here, everyone is playing as Mei, too — although she's had a few alterations to her primary weapon.
Now, instead of releasing a stream of frost to freeze her enemies solid or icicles to deal damage, Mei's Endothermic Blaster fires a single, powerful snowball that will instantly knock out any player it hits. You won't be able to fire multiple snowballs in quick succession though, because every reload requires you to fill your blaster with snow from designated locations around the map. Now every shot counts, and boy does it lead to some extremely hilarious encounters.
Most of the matches I played were an absolute blast, with snowballs flying left and right while Ice Walls popped up to block incoming fire as we charged up our blasters with another shot. Just like the Halloween-themed brawl Junkenstein's Revenge, Mei's Snowball Offensive also comes complete with a holiday-themed introduction featuring Soldier: 76, a completely festive Ecopoint: Antarctica map covered in lights, and holiday music that stands up with the best. Every piece is well-designed and built to put a smile on your face, so be sure to drop in and enjoy it while the event is live.
Holiday Gifts
Just like the events before it, the new Winter Wonderland update for Overwatch has brought a massive collection of new profile icons, sprays, victory poses, emotes, highlight intros, and skins for you to add to your personal hero customization collection. Each of these new additions are available via holiday-themed Loot Boxes which you can earn by leveling up in-game during the event, participating in the Arcade modes, or by purchasing them with real currency.
There's a grand total of 12 new skins present in the update, with five new legendary ones being added. You've got a Santa Claus-like skin for Torbjörn and Mei, an elf costume for Tracer to wear, a Snow Yeti look for Winston and my personal favorite, a Nutcracker skin for Zenyatta — complete with giant walnuts for orbs. Each new skin comes with a themed weapon as well to complete the look.
The remaining skins are all classified as epic and are namely for characters who didn't receive any during the Halloween Terror event back in October. McCree's dressed up as Scrooge from A Christmas Story for example, with our big buddy Roadhog rocking a light-up stomach painted to resemble Rudolph the red-nosed reindeer. Unfortunately, there's no new skin additions to D.Va, Soldier: 76, and some others, but maybe we'll see some surface early next year with the next few events. That said, there's plenty of great emotes, victory poses, and highlight intros worth grabbing though; including a Mistletoe-themed intro for Windowmaker that has plenty of fans scrambling for their senses.
Like Halloween Terror, every customization item can be purchased with in-game currency for Winter Wonderland at 3x the cost of their normal price. Sprays cost 75 credits, victory poses cost 250, emotes and highlight intros cost 750, epic skins cost 750 and legendary skins cost 3000. There's also a legendary emote for Zarya that will run you 3000 credits too. Again, these are hefty prices to pay, but they're still better than fighting against the random pulls that come from Loot Boxes.