Amazon Reviewers Troll Ivanka Trump's Boots
Users are taking the first family to task in a creative and hilarious way.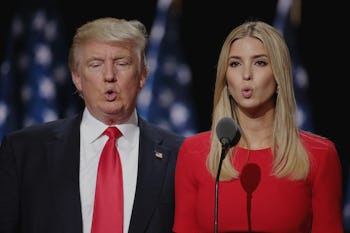 Getty Images / Chip Somodevilla
Of all the places to find criticism of Donald Trump, Amazon might be among the least expected. Plenty of negative sentiment toward Trump can be found across social media, but political commentary is generally confined to places like Twitter or Facebook. Even so, it seems that Amazon users have found a way to hit the Trump family from that angle: Ivanka Trump's line of apparel. The Amazon listing for Ivanka's Women's Issa Boot has been flooded with reviews, but commenters have taken aim at the Trump family instead of the footwear.
One user writes, "What a disappointment that they don't come in orange. I wonder whose original design these were borrowed from…" in a one star review making fun of Donald's complexion and Melania's past plagiarism. Another user says, "The thing these boots are good for is starting a conversation. When I wear them, people stop me on the street and ask me if I'm from Russia and if I know Putin. Silly people."
Some of these reviewers have gone full-out, writing eloquent and ridiculous anecdotes laced with disdain for Trump.
And the top critical review is quite the zinger, roasting sexualized comments Donald has made about his daughter.
It's impossible to say exactly why this product in particular has been targeted. Perhaps it's the fact that the boots bear some similarity to the jackboot, which throughout history has been associated with fascism. One review, entitled "Issa sexy Jackboot?" says, "The fit is much too big. My dad doesn't seem to mind, he says I should wear these boots and absolutely nothing else, ever. The BIG problem is that they stomp on democracy. Seems as if they were made in Russia."
These pointed reviews come at a pivotal juncture in the relationship between Amazon CEO Jeff Bezos and President-elect Trump. Historically, the two have not been friendly. Bezos, who also owns the Washington Post, was highly critical of Trump during the campaign. Trump returned those sentiments in kind, issuing a warning that Amazon could experience "problems" were he to be elected. In the past week, however, the two men appeared ready to bury the hatchet at a meeting between Trump and a number of tech leaders, including Bezos and Elon Musk.
Whether or not Bezos was actually genuine in his openness to the Trump administration may be beside the point. His customers, for their part, aren't letting the President-elect off the hook so easily. "Small," one writes. "Small minded. Small heart. Small brain. Small person. Sick person. Where's the vomit button??"