DC Comics Launches Rebirth Collected Editions for the Holidays
For the casual comic book fan who was living under a rock in 2016!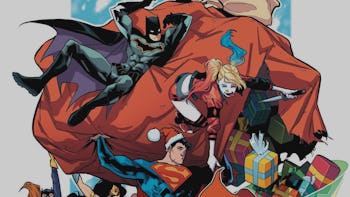 DC Comics, MTV
In advance of its annual holiday special launching on Wednesday, DC Comics has announced the collected editions of its 2016 Rebirth titles. The stories of Green Arrow, Superman, Aquaman, Batman, the Flash, Green Lanterns, and Wonder Woman, all renewed and redefined for 2016, will be available as collected trade paperbacks. New editions for Detective Comics and Justice League will also number among the graphic novels.
According to early estimates,, the first Rebirth issues of Batman and Justice League numbered among the top selling comics of the year, and Geoff Johns's last comic for quite a while — DC Rebirth #1 — ranked at #5.
DC's Rebirth, which competed against Marvel's Civil War II storyline, outsold the competition each month, earning critical acclaim for returning to its optimistic and character-driven roots. Issue #1 introduced the Watchmen as an in-universe explanation for the weaknesses of the New 52 comics, and the publisher will continue that storyline into its second and third wave of comics.
The Rebirth Collected Editions will be available in January 2017.