SpaceX Voted One of the 50 Best Places to Work in America 
Elon Musk is a good boss, apparently.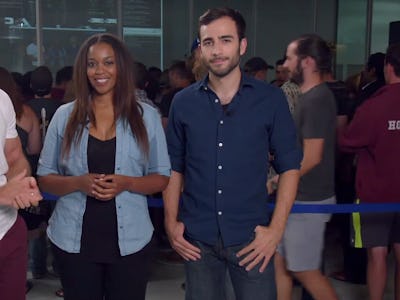 SpaceX/YouTube
Elon Musk must be a pretty good boss; his company SpaceX was named one of the 50 Best Places to Work by the job hunting website Glassdoor on its annual list for 2016.
This was the first time that SpaceX has made the list, and it placed 40th. The results, which were based on anonymous employee reviews from at least 75 people over the course of a year, were extremely close. The highest company on the list, Bain & Company, received a 4.6 out of 5, while the company in 50th place earned a 4.2.
SpaceX also received a 4.2, but it was ranked higher.
Some of the companies that SpaceX beat out include Ikea and the grocery store chain Wegmans, though it placed below Apple, Google, Facebook, and In-N-Out Burger.
Many of the employee reviews that had been submitted to Glassdoor praised SpaceX's lofty mission of space exploration and possible Mars colonization, and the focused, exciting work environment was brought up as a pro. The downside, though, is that several reviewers complained of long hours and a somewhat difficult work-life balance. It's literally rocket science, after all, and it can be stressful and time-consuming.
According to Glassdoor, 97 percent of the employees who submitted reviews approve of the CEO, Elon Musk. It makes sense — he is a rather admired person, after all.
Meanwhile, Tesla only scored a 3.5 on Glassdoor in part, it would seem from employee reviews, due to management issues. Only 91 percent of employees approve of Elon Musk at Tesla. Maybe it's because he brings a sleeping bag to work.