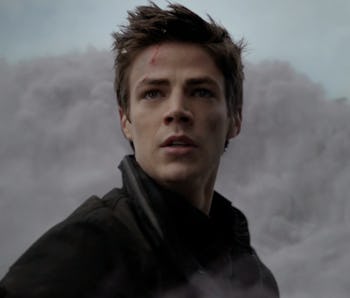 Entertainment
What to Know Ahead of 'The Flash' Mid Season 3 Finale
"The Present" is going to change the Arrowverse forever, again.
The CW
Winter is coming to Central City. After saving the world from the Dominators, Barry Allen (Grant Gustin) will deal with a lot of emotional garbage after learning how pretty much anything terrible going on has been his fault.
Saving his mother from the Reverse-Flash created Flashpoint, which didn't just lure the Dominators but also made aberrations in DC's Legends of Tomorrow and changed the lives of Team Arrow in Arrow. In what producer Greg Berlanti says will be a "tearful and emotional" episode, "The Present" will set up a new threat for the rest of the season before The Flash breaks for winter hiatus. "By the end of it, there's a whole new ticking clock that the show has," says Berlanti.
So what are the important narrative threads to advance in "The Present"? Here are all the things to remember going into The Flash.
How Draco Malfoy Joined Savitar
Prior to the crossover, Tom Felton's Julian was revealed to be Doctor Alchemy, the numero uno acolyte of Savitar. On behalf of Savitar, Alchemy has been restoring otherwise normal people's powers from the Flashpoint timeline, bringing in a whole new type of meta-human criminals to wreck havoc.
In the emotionally devastating "Killer Frost," Julian reveals to the audience that he has been Alchemy — though perhaps not willingly. Like the comics, Julian might have a dissociative identity, meaning he's not entirely himself when he's Alchemy. We know the who behind Alchemy. What we still need to learn is the how and why, and perhaps "The Present" will provide answers.
Savitar's Intent
The mystery of Savitar, the new monster speedster, will likely be a long-term game played the show's writers. While it would be pretty huge to reveal who Savitar is under all that CGI, who Savitar really is feels like a spring finale spectacle than it is an emotional winter gut-punch.
But what would make sense is to learn the why of Savitar. In Season 1, Reverse-Flash wanted Barry fast enough that he could help him return to his proper time, while in Season 2, Zoom hungered for speed and wanted to fatten Barry like a Thanksgiving turkey. But what could the Fastest Man Alive have that the God of Speed wants? Perhaps we'll know by this time tomorrow.
Future Barry and the Legends of Tomorrow?
In DC's Legends of Tomorrow, another long game is being played: A message from Barry Allen from the year 2056. Sounding much older and burdened with regret, Barry warns Rip Hunter (Arthur Darvill) — who is missing in time — that Barry is not to be trusted. This was a point of contention during the Dominator invasion, but it only worked to create tension among the superheroes. It was never actually solved, and while that might be a job for Legends of Tomorrow, no doubt The Flash will deal with some of it too.
A More Important Jay Garrick
Henry Allen's Earth-3 doppelgänger, Jay Garrick, is the Flash of his world and will play a much bigger role after Season 3's winter hiatus. "I'm going to figure in more prominently in the second half of the season than the first," John Wesley Shipp said in a recent interview.
"I'm most involved in this [finale] episode than any episode I've done on this show so far," he added. "So we get to see Jay dealing with this young speedster, we get to see his reaction to Savitar, and there really are some curious things that Jay says that make me, John, wonder, 'Okay, what's coming?'" You're asking the right questions, Mr. Shipp.
The Flash airs its mid season finale tonight on the CW.