7 Changes 'Flashpoint' Is Enacting to 'The Flash' in Season 3
Barry and Iris are barely friends? Cisco is a billionaire? What's going on next season of 'The Flash'?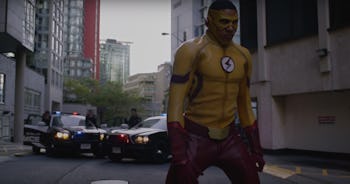 YouTube.com/The CW Television Network
When Barry Allen went back in time to save his mother from the Reverse-Flash at the end of The Flash Season 2, it changed everything. In Geoff Johns's 2011 comic, it was called Flashpoint: but the ramifications of the universe-warping event in the CW series The Flash remained in question, until now.
At the show's panel Saturday night at San Diego Comic-Con, the show's producers and cast (plus Tom Felton!) revealed all the major changes coming to the show this fall — along with a video preview — when it premieres on October 5.
If you were one of the unlucky plenty not in attendance at Comic-Con, here are all the big changes that will make any avid speedster go, "Whoa."
7. Barry's parents are, indeed, alive.
A preview video with new footage detailed plenty of new things thanks to the altered timeline. Since Barry saved his mother, of course, Nora Allen is alive — but so is Henry Allen, Barry's father, who died (literally) at the hands of Zoom late last season. But so is the Reverse-Flash, which is going to be a bit of a problem. In fact, it's the Reverse-Flash who dubs the world "Flashpoint."
6. Two major villains!
The Flash will feature two major villains throughout the season. One is Dr. Alchemy, which one of the EP's described simply as "a bad dude" and a "formidable adversary" to the Flash. He'll be voiced by Tobin Bell, who played Jigsaw from the Saw movies.
The other is another speedster who has yet to be formally identified.
5. Yes, 'Flashpoint' will impact Arrow.
At the panel, Flashpoint will also change Arrow, but mostly Diggle; more details will be revealed at the Arrow panel, scheduled after The Flash.
4. When The Flash begins, it's been three months.
"When we find him, he's been living in this timeline for three months," said Gustin at the panel, who added that Barry is in "blind bliss" because he's with his parents. But that comes at a cost…
3. Barry and Iris are the worst Facebook friends.
While Barry and Iris's relationship is one of the best things about The Flash, regardless of shipping, in Season 3 the altered timeline prevented them from growing up together. Thus, the two are now only acquaintances. Season 3 is shaping up to be a real gut punch. But one of the EP's added: "In any timeline, Barry and Iris ultimately find each other."
2. Cisco is a jerk billionaire.
In The Flash, Cisco is a lovable fanboy who oozes enthusiasm for saving the world. But in Season 3, he's an "ostentatious billionaire," said actor Carlos Valdes. Via Zap2It: "His best quality as a person in this world is making money."
1. Kid Flash will be a "lighthearted cockiness."
Keiynan Lonsdale, who joined The Flash last season as Wally West, said he didn't expect to become a superhero speedster so quickly into his run in the series. But he then added that his portrayal as a superhero differs from Barry in that Kid Flash is a bit arrogant, but not off-putting, describing it as "lighthearted cockiness."
The Flash returns for its third season to the CW on October 4.