'Arrow' Episode 100 Put The Final Nail In the Shipping Coffin
The annual 'Arrow' crossover tried to call truce among warring fandoms.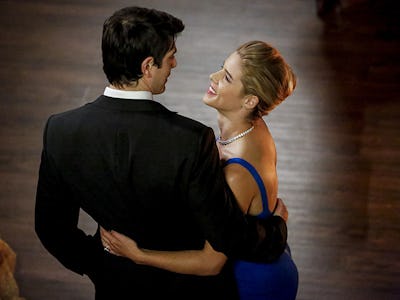 The CW
The landmark 100th episode of Arrow, airing amidst the CW's crossover extravaganza "Invasion!" paid tribute to five years of Oliver Queen's crusade against crime. Arrow's fandom has been marked by "shippers" — fans who romantically pair characters — to the point that lead star Stephen Amell and show runner Marc Guggenheim have expressed some disappointment in the fanbase's obsession. To that end, Arrow made a final declaration in its 100th episode: Enough with the shipping. Let it go.
There are two major camps among Arrow shippers: One devoted to Oliver Queen ending up with canon partner Laurel (Katie Cassidy), aka Black Canary; the other for Oliver and brainy Felicity Smoak (Emily Bett Rickards), who adopted the moniker Overwatch. While the show seemed all but ready to pair up Oliver and Laurel, as they've appeared in DC's comics, Rickards's infectious chemistry as Felicity with Oliver, and the fact the show benefitted from her role as a catch-all tech expert, made Felicity indispensable to the show. She had been created for a single episode, but she soon became a regular, gaining fans of her own.
Suddenly, the lines were drawn between Oliver's paramours, until Season 4 when Laurel was written off, killed by Damien Darhk (Neal McDonough). Not to be wholly validated however, a season-long marriage engagement between Oliver and Felicity ended too. Felicity agreed to keep working for the Green Arrow in a platonic partnership. Now in Season 5, Oliver is without a romantic interest — there's a minor thing going on with a Star City reporter, but she might be Prometheus — and Felicity has also moved on with a cop (who could also be Prometheus!).
"I'll be honest, so much of the buzz about this show is given to us by the 'shippers," Guggenheim admitted before the premiere of "Invasion!" last week. "I love their passion, but at the same time, there's a lot of times where I'll be like, 'Can't people watch the show just to be entertained?'"
The show coasted on its new status quo until "Invasion!" where Oliver wakes up in an alternate life had he not become the Green Arrow. Engaged to Laurel (Cassidy, reprising her role), Oliver's actions gave oxygen to shippers who missed Laurel and wanted their dream pairing to become TV canon. The show stylistically evoked Season 1, when Oliver and Laurel seemed all but inevitable; the show warmed Amell and Cassidy in autumn hues, and the plot happening predominantly in the now-abandoned Queen mansion from the show's early years.
There was lip service paid to Felicity, too. Before Oliver leaves the Dominators' reality, the show recalls characters Oliver lost or sacrificed to his crusade: his father Robert, his mother Moira (killed by Deathstroke), his old protege Roy Harper, and his best friend Tommy Merlyn, who died in the Season 1 finale. But among them was the very-much alive Felicity; though not "lost" in the conventional sense, the moment she appears as a hologram acknowledges that Oliver sacrificed personal happiness with her to pursue his vigilantism.
The Arrow fandom and its shippers are shockingly harsh towards one another online. It's a minor culture war, one in which nobody has actually harassed anyone, but within "Invasion!", the celebratory 100th episode of a show that spawned a whole TV universe, Arrow broke up one of its most toxic relationships. It remains to be seen how Arrow will continue without that particular friction.