Killing the 'Olicity' Ship Saved 'Arrow' Season 5
To make fans love 'Arrow' again, it let go of romance.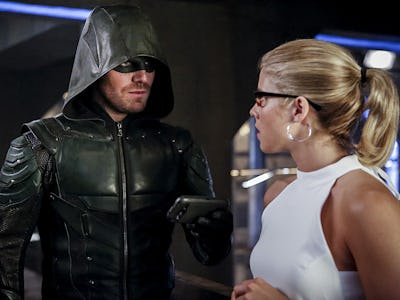 The CW
Oliver Queen and Felicity Smoak were supposed to be together. At least, that's what fans wanted, until they actually got together. The pairing of the Green Arrow (Stephen Amell) and the brainy, witty tech support (Emily Bett Rickards) was a weighty ship that sank Arrow last year, and was the first to go when Season 5 came around. It was necessary course correction that worked to the show's benefit, because while Season 5 has not been perfect, there's a renewed vigor potent in every new episode. Arrow is once again a fun show without nary a bored romantic tension between either of the show's leads.
Season 4 of Arrow was, to put it kindly, experimental, with spectacularly failed results. Can Arrow be light and fun, as the producers promised? Does magic and mysticism belong against a street-level superhero? Mostly, can Arrow carry the couple that was inevitable the moment Amell and Rickards shared their electric chemistry on camera?
Throughout that year, Arrow wasn't light, and it was barely fun to watch, and Damien Darhk (Neal McDonough) was an underwhelming foe who had the unenviable job of following Matt Nable's incredible Ra's al Ghul. And no, Arrow couldn't responsibly portray a romantic item that, almost like real life, didn't make you dread the notion of spending every Wednesday evening with.
With contradicting, nonsensical lessons about trust and transparency between lovers and Felicity's part executed poorly, the "Olicity" ship yearned for by fans became overwritten and overly complicated as the year limped on. But at the end of Season 4, Oliver and Felicity's engagement ended — there was stuff with Oliver's kid that he didn't tell Felicity, to her ire — and the two stayed as amicable friends, as allies in Oliver's crusade against crime.
The gamechanger in Season 5 has been a new Team Arrow, every one of them a D-lister from DC's longboxes, all learning to grow in a grunt-drill sergeant relationship with Star City's most feared vigilante/mayor. Felicity has stayed as Overwatch, but her romance with Oliver has vanished. Their relationship hasn't been unacknowledged either; in "Human Target," the season's fifth episode, Ollie learns Felicity has moved on to a new boyfriend, a police detective named Billy Malone. Ollie had an appropriately mature reaction — I mean, for a superhero, that means climbing up to her balcony unannounced — with an appropriately mature conversation with the woman he loved.
Admitting he shouldn't say anything at all, he tells her he's fine she's seeing someone. "But I'm hurt you didn't tell me." Felicity says she's tried, but didn't want to tell him until it was real, but she definitely isn't keeping the door open. There was no unnecessary drama, no yelling, no useless tension. The delicate moment in "Human Target" was a soft nail in the coffin for a pairing fans thought they wanted, but saw how destructive and unhealthy it actually was.
There's a lot to like about Arrow Season 5: It's funny, the action has been impressive, and all of the new characters are dynamic and enrich every moment onscreen. Arrow still isn't the top dog in the DC TV slate — that's currently Supergirl — but it's matured a lot. Season 2 of Arrow remains the show's highest point, but perhaps the show deserves some love again.
Arrow airs Wednesdays on the CW.