3 Important Ways the 'Arrow' Crossover Changed Oliver's Life
Oliver lives in a fantasy during "Invasion!"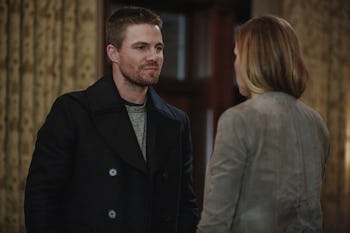 The CW
After five years away from home in Starling City, spoiled playboy Oliver Queen (Stephen Amell) became a vengeful weapon of justice as the superhero Green Arrow. After five more years in the TV series Arrow, Oliver's universe widened, and in this week's four-series crossover with Supergirl, The Flash, and Legends of Tomorrow, Oliver will fight alongside aliens and time-traveling meta-humans to save the world from … well, more aliens. But the Arrow chapter of "Invasion!" will be more contained to Oliver's personal history, where Oliver explores a life had he not been shipwrecked on Lian Yu.
For those entering "Invasion!" without familiarity to Arrow, here's everything you need to remember or know about Oliver's altered life: After being abducted by the Dominators on last night's The Flash, Oliver will wake up in this week's Arrow living the life he would've had, had he not gone with his father Robert Queen (Jamey Sheridan) and his lover Sara Lance (Caity Lotz) — the sister of his then actual girlfriend, Laurel (Katie Cassidy) — on the ill-fated yacht, The Queen's Gambit. In this new reality, Oliver's parents Robert and Moira (Susanna Thompson) are still alive, as is Laurel, who is now engaged to Oliver.
How Robert and Moira Died
Robert Queen killed himself shortly after the Queen's Gambit went topside. On the lifeboat, Robert shot a crew member and then himself to ensure Oliver could survive without their dead weight. Moira, on the other hand, faced a different fate: In Season 2, in the midst of Slade Wilson's reign of terror as Deathstroke (Manu Bennet), Slade killed Moira in front of Oliver and his sister Thea (Willa Holland) in one of the show's most devastating moments.
Speaking of Deathstroke, he's expected to return in some capacity for the special episode; although currently imprisoned by A.R.G.U.S. on Lian Yu, given the alternate timeline, he may not be imprisoned at all, or he appears as a figment of Oliver's loopy imagination.
How Laurel Died
The death of Laurel Lance is a little more fresh than Moira's and Robert's. In the battle against Damien Darhk (Neal McDonough) in Season 4, Damien killed Laurel, who had become the Black Canary after inheriting the mantle from her sister Sara (who in her five-year absence trained with the League of Assassins). Laurel's death has weighed heavily on Oliver in Season 5, returning him to his old, brutal methods while training new recruits as a sort of "do-over" for his soul.
But in the crossover, Oliver and Laurel are still together — engaged, in fact! It's possible Oliver and Sara keep their affair a deep secret, though based on early photos, Sara might also be aware something is off in this new reality.
Felicity and Ray Palmer: Together?
Another significant thing changed in Oliver's new reality is Felicity Smoak. The former Queen Consolidated IT employee and Oliver's ex-fiancée, wound up with her ex Ray Palmer (Brandon Routh), might still have his fortune as founder and CEO of Palmer Tech. But since Felicity and Ray are also part of the team against the Dominators, the full extent is unknown. (But check out Felicity's hand: Someone put a ring on it.)
The Arrow crossover "Invasion!" airs Wednesday on the CW.