People Still Believe the Insanity of Pizzagate 
It's the fake news story that just won't quit, and people could get hurt.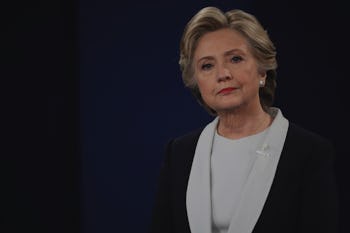 Getty Images / Chip Somodevilla
James Alefantis desperately wants "pizzagate" to be over. On Sunday, a North Carolina man fired an assault rifle inside Alefantis's Washington, D.C. restaurant, Comet Ping Pong, claiming he was investigating the wildly popular and completely, unequivocally false conspiracy theory that Hillary Clinton and other democratic officials helped run a child prostitution ring out of the restaurant's basement. "Pizzagate" has been debunked about as thoroughly as any conspiracy theory ever could be — the restaurant doesn't even have a basement, for example — but some die-hards just won't give it up.
The story of "pizzagate" is linked to the dangerous influence of fake news and conspiracies on the 2016 election. While many of the fake stories and scandals propagated by far-right websites and misleading publications flamed out after a period of time in the trending lists, pizzagate just isn't going away. The difference is, this time, the conspiracy has already incited violence on one occasion, and innocent people could have been seriously hurt. Still the conspiracy is constantly being talked about on Twitter.
The New York Times reports that Alefantis and his employees began to receive threats as the theory circulated through various fake news sites. While conspiracy theories about the Illuminati or fake moon landings are often opportunities for people to relish in the possibility of the absurdity, "pizzagate" proved to have potential dangerous, real-life implications. But even though the theory has been debunked by nearly every major media outlet in the country, the fake news sites are still running with it.
The "New Nationalist," pictured above, was just one of many fake news publications responsible for spreading the pizzagate conspiracy. Its falsified article was enough to keep fanning the flames of pizzagate for the internet at large.
Alefantis writes in a Facebook post, "Let me state unequivocally: these stories are completely and entirely false, and there is no basis in fact to any of them. What happened today demonstrates that promoting false and reckless conspiracy theories comes with consequences. I hope that those involved in fanning these flames will take a moment to contemplate what happened here today, and stop promoting these falsehoods right away."
Instead of leading to a productive conversation about being able to trust certain sources, pizzagate is pushing people away from one another even further. And as it becomes a bigger topic — thanks to misleading pundits and conspiracy peddlers like Mike Cernovich and Alex Jones — more people are starting to believe that the conspiracy is rooted in reality.
There was no factual basis for pizzagate, but there was an entire subreddit dedicated to the conspiracy theory that was eventually shut down in November. Many of the posters from the subreddit were also from the pro-Donald Trump subreddit "The_Donald." Fragmented lies from various corners of the internet, including 4chan and random Twitter accounts, came together and fleshed out the conspiracy theory, which many people began to jump on and believe in after fake news sites began writing about it. And once a conspiracy theory has legs, it's often impossible to fully dispel it even if it's lacking any credibility.
Earlier in November, Mark Zuckerburg said that the idea that fake news influenced the election in any way is a crazy idea. And a web browser extension named B.S. Detector that was intended to alert people of unreliable news sources was recently banned. Meanwhile, President Obama appears to be clued in to the consequences of fake news, blaming the epidemic for impeding the fight against climate change.
Thankfully, nobody was actually injured on Sunday. But it appears that even a an armed gunman motivated by a false conspiracy theory isn't enough to help bring to light the threats of fake news — it's just exacerbating the problem.