What Happened at Dinner Between Donald Trump and Mitt Romney?
The unfortunate-looking photograph has sparked a slew of memes.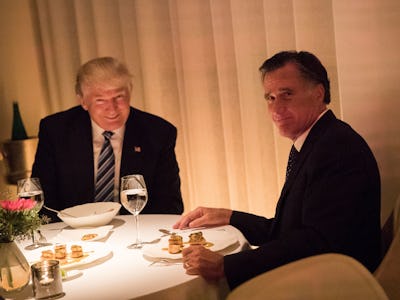 Getty Images / Drew Angerer
On Tuesday evening, Donald Trump sat down with Mitt Romney for dinner at Jean-Georges restaurant in Manhattan. The dinner came during a flurry of speculation and debate surrounding Trump's options for Secretary of State. Romney and Trump certainly have plenty to talk about.
But much of that importance was overshadowed as the media and the internet latched onto a certain photograph that emerged from the meeting. It depicts Romney and the president-elect eating frog legs and diver scallops (which, as an aphrodisiac, make for a strangely romantic food choice) accompanied by wine glasses filled with water. The water is presumably to accommodate Romney's Mormonism, which prohibits him from drinking alcohol.
It is, however, immediately clear from the photo that the composition of their meal was not the thing that caught everyone's attention. The quote that many media sources pulled from some after dinner Q&A was that Romney was "impressed" with Trump's transition thus far. It hardly seems so from the photo. The unfortunate timing of Romney's expression — what can only be described as thinly-veiled misery — juxtaposed with Trump's hungry, overeager grin are causing people to wonder if Romney really was "impressed" by Trump. Thusly, a new meme was born.
It's not difficult to speculate about potential areas of disagreement for the two men, namely the United States's position toward Russia. In 2012, Romney took a much harder stance on Russia than Trump did throughout his own campaign.
Some wondered if Romney was actually channeling the can't-believe-I'm-here feeling that many liberals have been experiencing since the election. There's reason to believe that that is the case. During the primaries, Romney didn't have much to say in praise of Trump. He went so far as to deliver a speech to the American public, urging Republicans to rally around Trump's rivals in order to prevent a "prolonged recession" that would occur as a result of Trump's policies. He denied that Trump was a competent businessman and blasted him as a non-serious candidate. It must be strange for Romney to find himself in this position.
Despite Romney's status as a prominent conservative, it seems that the overall tone of the memes resulting from the photograph is one of sympathy toward Romney. It's possible that the public is now looking back on his candidacy with more affection than they had for it at the time. For many, it seems so long ago that gaffes like Romney's 47 percent comments were the worst thing a presidential candidate could be caught saying.
It's impossible to say exactly what was happening or what was being said at the moment this photo was taken. Maybe the two men were in the midst of a disagreement. Maybe Reince Priebus, who was also at the dinner but was conveniently left out of this photo, just told a bad joke. Maybe Romney really is reevaluating his life choices. But one thing is clear: If Trump were to pick Romney as his Secretary of State, it would signal a shift away from some of the more extreme rhetoric of his campaign. People may be hoping Romney can moderate a Trump administration from the inside, and maybe, painful as it is, Romney is hoping the same thing.