White Ranger Could Return in 'Power Rangers' Comic Book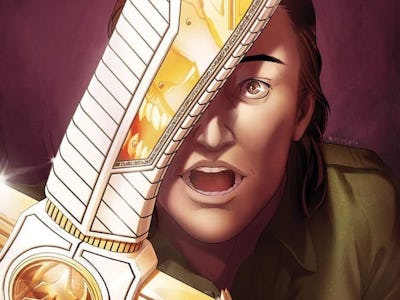 Twitter.com/KyleDHiggins
One of the most powerful and most popular Power Rangers of all time is making his epic return to comics. In a tweet posted from writer Kyle Higgins, the cover of issue #12 of Boom! Studios's Mighty Morphin Power Rangers features Tommy Oliver wielding Saba, the sentient broadsword of the White Ranger. It seems Tommy's legendary upgrade isn't far away, although Higgins's tweet does comes with the odd hashtag "#Notwhatyouthink."
As fans remember, Tommy, played by Jason David Frank, lost his Green Ranger powers in Season 2 of the TV series. He disappeared for what felt like months (it was just a few weeks) before he made his surprise return as the White Ranger in the two-part episode "White Light." Armed with the new Tigerzord and the wise-cracking talking sword Saba, Tommy's White Ranger became a '90s icon and is one of the most recognized Power Rangers of all time.
In the modern reboot comic from Boom! Studios, Tommy is still the Green Ranger and has just defected to the side of good. But the current battle with Black Dragon in the most recent issue #8 has been cataclysmic, and the Green Ranger powers are being stretched thin among all the other Rangers as a last resort. Perhaps the Green Ranger powers deplete, forcing Zordon and Alpha 5 to forge the White Ranger's Power Coin earlier than they did in the TV series.
The new issue won't be the first time the White Ranger has been in comics. In the '90s, Hamilton and Marvel owned the Power Rangers license and released several comics starring the Power Rangers, including the White Ranger. Boom! Studios has also released variant covers featuring the White Ranger, but the character has not been a part of the story thus far.
Check out the tweet below that has the cover of issue #12, which will release sometime in early 2017.