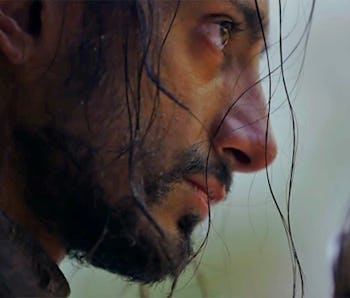 Entertainment
'Rogue One' Reshoots Completely Changed Bodhi Rook's Backstory
EW
Before he joined the Rebellion against the Empire, Bodhi Rook (Riz Ahmed) was conscripted into the the Imperial Navy against his will. He was born on the planet Jedha, but now, it seems like all this backstory might have been given to Bodhi after the infamous reshoots of Rogue One: A Star Wars Story.
On Monday, EW released new Rogue One photos, complete with captions giving fans new insight into how all the characters and technology fit into the plot of the movie. For Bohdi Rook, the caption says that "during the reshoots, Bodhi was one of the characters whose backstory was deepened to make for (hopefully) a deeper emotional resonance."
What this could mean for the character is unclear. Because he was born on Jedha, this could imply that his parents were either people who believed in the Force, or perhaps were sensitive to the Force themselves. From the trailers, Bodhi seems to be the most wide-eyed and innocent of the Rogue One squad. He even gives the squad their call sign moniker: "Rogue One." It seems unlikely that the reshoots would have changed Bodhi from being a jerk and into a nice guy, but it will be exciting to see how this character's backstory figures into the rest of the Star Wars saga.
Rogue One opens on December 16, 2016.