NYC Loves Snapchat Spectacles, But Only If They Come in Black
"The resell prices are incredible!"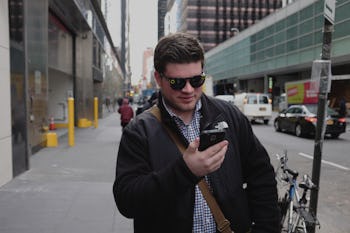 Jack Crosbie
It's 11:45 a.m. on a Monday morning in New York City and Alejandro, a 23-year-old software programmer, wants to start a riot.
"I consider myself an early adopter," Alejandro says. "I'm trying to be an Instagram influencer, so this is a marketing opportunity for me." He works at a major software company, "But don't say that, cause I'm supposed to be at work. I took a sick day for this. Man, there's gonna be a riot in like 10 minutes if they don't let us in!"
Snap Spectacles have been generating hype around the country. They first debuted in California few weeks ago and people who want to buy a pair are encouraged to visit spectacles.com/map often to find out where the next pop-up vending machine will be located. The glasses are admittedly cool: A tiny camera on the right side of the glasses records 10- to 30-second video clips and posts it directly to your Snapchat account. The video records in a unique circular format, which means it can rotate with your phone at any angle when displayed full screen. At $139, they're also exponentially cheaper than the last big experiment in wearable cameras, Google Glass, which cost $1,500 and flopped.
"Let us in! Let us in!" Alejandro says. "We should just walk inside." But everyone else is too cold to do anything about it. The crowd starts to disperse.
Most waiting outside in the non-moving line have been here for more than two hours. The ones who actually have a shot at walking away with the coveted video-camera sunglasses lined up before 8 a.m. That group is already inside the pop-up store on East 59th Street, standing in another two-hour line that feeds into a few of Snap's Spectacles vending machines, which are slowing everything down to a crawl. You can buy two pairs of Spectacles, but have to purchase both pairs independently, and most people's banks are interpreting the double purchase as fraud and freezing the system.
But still, for people like 14-year-old Destiny Bermudez, the chaos and the brutal cold will be worth the wait. Destiny's dad, Ramiro Bermudez, saw Snap's announcement of the pop-up shop at 6 a.m. and bundled their family — Destiny, her grandmother, and her uncle — into the car and drove into Manhattan from Queens. "They just looked cool, and I wanted them," Destiny says. Snapchat is the preferred social network at her high school.
Much of the rest of the crowd is a bit more opportunistic. The Snap Spectacles retail for $129, but go for $500 to $1,500 on eBay. Those prices will probably drop in the coming days (the NYC store is open every day except Thanksgiving and Christmas Eve until December 31) as initial demand subsides.
"I need these glasses, man! The resell prices are incredible," says Bryan Herrera, a 19-year-old student at St. Francis University who ditched an exam. Herrera transferred $129 to Braylee LeClair, 18, a Fordham student, who was also going to flip the glasses. LeClair only budgeted to buy one pair, so Herrera gave her face value for her second pair so he could sell them as well.
"The longer I wait in line, the more I want to sell both pairs," says Brad Ziegler, 25, who quit his job last week and is killing time before a new one starts in December. "I have nothing better to do, or else I'd never be out here. I Snapchat maybe once every other day."
There were some non-jaded Snap fans: "This is regular for me," said Jose Luis, 24, who was walking out of the shop with two pairs of glasses for himself and his niece. "I used to do this for sneakers, this line is nothing."
Luis was one of the few that stopped and talked after waiting for hours for the glasses. Most other people treated them like contraband, hurrying out of the store with the glasses still in their tubes, bundled into coat pockets.
"Oh we're not gonna pull ours out!" yelled one woman, hurrying away after I asked if she had taken them from the box yet.
"What is it, glasses?" a man walking past asked. "Damn, that's a long line for some eyewear. I thought they were giving out free food or something!"
The glasses come in three colors: black, turquoise, and a sort-of peach color. New Yorkers are particular about one color specifically.
"I'd be surprised if the black isn't the sold out color in New York," Kate Pena said. "Maybe the colorful ones would do okay in LA, but that doesn't fly here."
Pena and her coworker were some of the last people to get into the building before the pop-up sale shut down. Inverse doesn't know which color they managed to buy. Spectacles will be on sale at 5 East 59th Street until December 31.