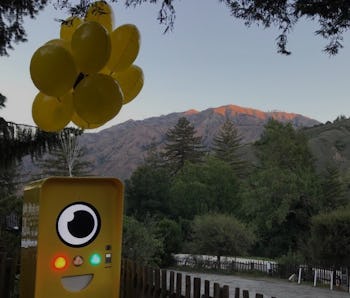 Culture
Snapchat Reveals Second Location for Its Glasses: Big Sur, CA
Hopefully more will pop up soon. 
Snapbot Sightings Twitter
In September, Snapchat announced that it would be introducing its own Google-glass-like product to use in tandem with its app. On Thursday morning, the first Snapbot — a vending machine to dispense the specialized glasses — materialized near Snapchat's headquarters in Venice Beach, California. The startup teased a second location was coming, which popped up today in Big Sur, near Loma Vista, California.
The glasses come in three colors — black, coral, or teal — and are designed to capture photo and 10 seconds of video for the social media platform, costing around $130 a pair. Google's wearable imager has fallen by the wayside, but Snapchat's Spectacles have some good things going for them. For starters, they resemble snazzy sunglasses, a feature that the company hopes will attract its largest user base: millennials.
Currently, the bright-yellow Snapbots are the only place to buy the glasses and just like the platform they run on, these happy little dispensers are only around for 24 hours. If you can't make it out to Big Sur, and can't wait until your neighborhood Snapbot opens, you might find some on eBay, presumably for a much higher price.
A quick visit to their homepage will show you the all the Snapbots that are currently active. Hopefully soon, the map will be full of the minion-esque spectacle-dispensing boxes.
Once the bot's location was revealed, people from all over the state were considering trekking to the Loma Vista area to secure their own pair of spiffy specs.
Others were hoping the happy, yellow boxes would soon come to their areas, and some even signed up for Twitter just to find out where the bot is.
Some die-hard spectacle enthusiasts purchased plane tickets in hopes of making it to the box before it disappeared.
The Venice location attracted hoards of consumers, resulting in long lines of consumers hoping to snag a pair of Spectacles. Today's location is a bit more remote, and since it's located outside the Big Sur Restaurant and bakery, you can have a snack and your spectacles too.
Reports on Twitter show the Snapbot ran out of spectacles around mid-afternoon, leaving many people disappointed. But they were treated to some pretty spectacular views as a consolation prize.
Curious as to what the view from the spectacles looks like? One lucky consumer was able to snag a set on Thursday, and took them to DisneyLand for a test run. You can view her experience below.