14 Shows to Watch to While 'Young Justice' Is on Hiatus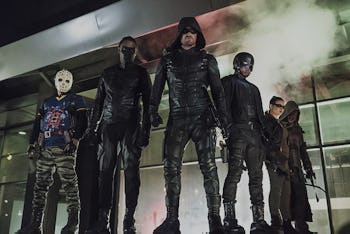 The CW
A lot of unthinkable things happened in 2016, but there's one that brought some joy: The renewal of Young Justice. The cult hit DC Comics series, created by Emmy-winner Brandon Vietti and Gargoyles co-creator Greg Weisman and canceled after two seasons on Cartoon Network in 2013, announced in early November that it will return, continuing the show in which the world's greatest sidekicks become heroes in a league of their own.
An actual premiere date for Young Justice Season 3 — it's okay if you want to squeal if that still hasn't sunk in — has yet to be announced. It will be awhile until anything more is known about the new season, but that's fine, because there are loads of great superhero shows to help fans stay whelmed in the meantime.
If you're anxious for more Young Justice and have watched its two seasons ad nausem, consider these other options.
14. Arrow
Of course Arrow. The show that started the CW's "Arrowverse" is five seasons deep and is about to reach its 100th episode this month. The adventures of Oliver Queen, played by Stephen Amell, has been more hit than miss, and it only makes sense to enter a universe with the show that started it all. Season 2 is where the show's scope grows with the introduction of Barry Allen (Grant Gustin) who will be the Flash by the start of Season 3. After a disappointing fourth season, fans have witnessed a renewed vigor in its current fifth year.
13. The Flash
The first spin-off of Arrow, Grant Gustin's Barry Allen is a smiling, happy opposite to the grim and gritty Oliver Queen. While a few episodes intersect with Arrow — and in one instance, Supergirl late in Season 2 — it's still a worthy series enjoying on its own. But it's not a bad thing to get to know Barry's friends.
While Arrow introduced the Flash, it was on Flash's own show that the entire DC TV universe expanded tenfold in Season 2 with the multiverse concept explained and explored, something that continues in its current third season.
12. Supergirl
At first separate from the other live-action DC shows, Supergirl's titular character has properly joined her spandex-clad compatriots in her show's second season on the CW. With a similar story to her more famous cousin, Supergirl soars as a refreshing alternative even if it rehashes a lot of tired concepts. Supergirl also has a strong, charismatic ensemble cast that gives The Flash a run for its money.
11. DC's Legends of Tomorrow
Probably the most "Saturday morning cartoon" of all the live-action DC shows, supporting characters from Arrow and The Flash team-up to form their own squad as they travel through time. Led by Rip Hunter, a gunslinging Time Master from the future, he recruits 2016's superheroes to save the future from longtime DC supervillain staple Vandal Savage.
Although its first season was plain fun, the show's current Season 2 has won acclaim for exploring the harsh realities of bygone centuries.
10. Constantine
Although it lasted just 13 episodes, Constantine starred the British chain-smoking con man of the DCU, John Constantine (Matt Ryan) as he righted supernatural wrongs across the United States. Although the show was independent from Arrow and The Flash during its run, Constantine appeared in an episode of Arrow, retroactively including him months after his own show's cancellation.
Darker than Arrow, Constantine fought against child predators, serial killers, and actual demons from hell in the David Goyer-produced series that faithfully adapted key comics in the Hellblazer series.
9. Smallville
Before Arrow began its own universe, Smallville contained its own for ten seasons in its origin story of Clark Kent growing up in his small Kansas town. Tom Welling stars as a young Man of Steel learning to wield his powers while he meets pretty much everyone in the DC Universe, except Batman. But he meets Booster Gold!
8. Justice League and 7. Justice League Unlimited
Producer Bruce Timm is considered the mastermind behind of the DC Animated Universe. Although it began in the Emmy-winning Batman: The Animated Series, the two Justice League series are great crash courses to the entire DC Universe and set the bar for Young Justice to do its thing years later.
Justice League, the first series, focuses on the core members of the Justice League — Superman, Batman, Wonder Woman, the Flash (Wally West), Green Lantern (John Stewart), Martian Manhunter, and Hawkgirl — while Justice League Unlimited ropes in the entire DC Universe. There are even episodes featuring Static and Batman Beyond, two other characters who starred in their own DC animated shows at the time.
6. Marvel's Agents of S.H.I.E.L.D.
Who cares if it's not DC? Mirroring both Arrow and Young Justice in rather profound ways, Agents of S.H.I.E.L.D. is the spy-fi spin-off of the Marvel Cinematic Universe featuring a ragtag team of experts learning to work together while dealing with betrayals and other hardships along the way. Sounds a lot like Young Justice, doesn't it?
While Season 1 feels sort of quaint, almost cute, Seasons 2 and 3 expand into exploring Inhumans while Season 4 has been taken over by Ghost Rider.
5. The Spectacular Spider-Man
Although aimed at a younger audience, The Spectacular Spider-Man — also created by Greg Weisman — won acclaim in its short two-year run, and was only canceled as it was caught up in Disney's buyout of Marvel. Incorporating all of Spider-Man's history into one friendly and surprisingly mature cartoon, The Spectacular Spider-Man lives up to its name, and it's curious why fans haven't clamored for a renewal for this show either.
4. Wolverine and the X-Men
Although X-Men fans still hold the classic series from the '90s in high regard, Wolverine and the X-Men was a great modern interpretation that featured Wolverine trying to rebuild the disbanded X-Men. Smart, funny, and starring Steven Blum as perhaps the greatest voice actor to play Wolverine, Wolverine and the X-Men is another animated team-up cartoon that will hold over anyone waiting for Young Justice.
3. Avatar: The Last Airbender and 2. The Legend of Korra
Neither Marvel or DC, or even a superhero series, Nickelodeon's Avatar: The Last Airbender is perhaps one of the greatest animated shows, ever. Period.
Young Justice is great, no question, but the humor, intelligence, and world-building in Avatar make it a serious contender for one of the greatest of all time. With three seasons total, plus the equally awesome follow-up show The Legend of Korra set 70 years after Avatar, Nickelodeon's magical kung fu series will make you forget how much time is passing while you wait for Young Justice.
1. Batman: The Animated Series
Also a contender for the greatest animated show of all time is Batman: The Animated Series. Produced in an era when kid's shows were just beginning to acknowledge an older audience, Batman has been the gold standard for all cartoons since, presenting an accessible world with familiar characters but reinventing them into something fresh and exciting. Without Batman: The Animated Series, there would be no Young Justice. While Young Justice prepares for its comeback, respect must be paid to the trend-setters who made it all possible.