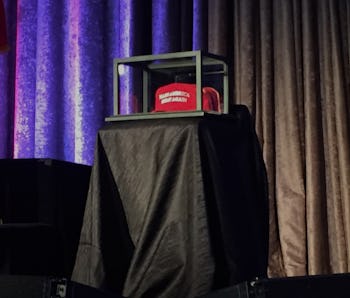 Culture
Why Is Donald Trump's Hat in a Glass Box Right Now?
The answer may ... not surprise you.
Michael Calderone
One of the very important questions as the polls began to close on election night was this: Why is Donald Trump's indestructible Make America Great Again hat under glass like the crown jewels?
This is all going down at the Hilton in Midtown Manhattan, where Trump is expected to make his concession speech tonight — maybe. The Republican candidate is watching the results at Trump Tower before then, and while he's not at the Hilton, presumably the hat's being kept dust-free inside its glass case. The glass certainly isn't for the hat's protection: Scientists say that even if buried deep in a landfill, the hat will survive unto the ending of the world (obligatory joke about that eventuality seeming much nearer tonight, etc. etc.).
And yet, it's under glass on stage in a ballroom at the Hilton in New York.
Perhaps he is planning some sort of elaborate (or not) glass-smashing display? Hillary Clinton's already got her own glass-shattering thing going on, and we are aware that Donald does not enjoy being upstaged.
Or I suppose it could be a more break-in-case-of-emergency-type thing, wherein a fuming and/or sniffling loser candidate needs a fresh hat within arm's reach from which to draw the additional strength needed to deny so many unanimous polls at the same time (obligatory joke about this task being made more difficult by tiny wee fingers, etc. etc.).
The plot thickens (I mean, relatively) with the discovery of what seems to be a second hat, in a second glass box? AMNewYork ran the following photo of a Trump hat in a box, which sounds like terrible Dr. Seuss fan fiction and doesn't do a whole lot in the way of providing answers. The location and even are the same, but the hat is a different color.
As it turns out, one hat is apparently a Winner Hat, while the other is a Loser Hat. It seems a reasonable guess that the red hat is the celebratory one, but we'll have to wait a bit longer (maybe a lot longer, depending on how long it takes him to concede) to know for sure.
Ivanka Trump might ship her fashion merch jobs off to China, where it is all presumably spreading the good word about Making America Great Again when it is not busy catching on literal fire, and while the elder Trump has certainly done more than his share of outsourcing, the origins of the MAGA hats are … a little murky? Basically, they seem to be made in Los Angeles, except for maybe the ones that aren't.
Btw, if you think Trump came up with slogan on his own, he didn't. Fittingly, it's a bastardized, distorted rip-off of Ronald Reagan, who campaigned under "Let's Make America Great Again" in 1980.
Inverse has reached out to the Trump campaign for comment. This story will be updated vigilantly.