What 'Doctor Strange' Post-Credits Scenes Mean for the MCU
Thor and Baron Mordo put stake in the Sorcerer Supreme.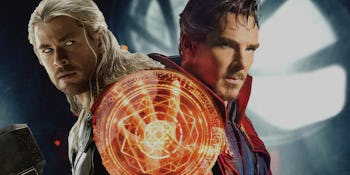 Marvel, Linda Tran/Inverse
The Marvel Cinematic Universe has welcomed Doctor Strange into its continuity, and it's wasted little time getting him acclimated. After fighting Kaecilius and Dormammu in his debut movie, the two credits scene teasers in Scott Derrickson's Doctor Strange provide a peek at the future for both the MCU and for Doctor Strange (Benedict Cumberbatch) himself.
In the first scene, which appears midway through the credits, Strange is inside New York's Sanctum Sanctorum with a special guest: Thor. Chris Hemsworth cameos in Doctor Strange as the God of Thunder incognito with his brother Loki (Tom Hiddleston), looking for their father, Odin (Anthony Hopkins). Thor tells Strange — who has taken it upon himself to monitor visitors in and out of Earth's realm, particularly those in the New York area — that he's only back to find Odin, who might be somewhere in New York City.
Given what happened the last time Loki was in Manhattan during 2012's The Avengers, there's a lot to be worried about. Strange agrees to help Thor, which means Doctor Strange will be in Thor: Ragnarok, joining Thor and the Hulk (Mark Ruffalo), both of whom sat out the big brawl in Captain America: Civil War. Thor: Ragnarok will be the first time Doctor Strange teams up with any of the Avengers, which is expected given his rookie status in the MCU.
The second scene is specific to Strange. Having left the class of mystics he devoted his life to, Baron Mordo (Chiwetel Ejiofor) tracks down Jonathan (Benjamin Bratt), the paraplegic who learned from the Ancient One (Tilda Swinton) how to walk again. Because he uses magic, Mordo finds him and takes away his powers, vowing to remove Earth of all sorcerers — meaning, he's going after Doctor Strange. Expect the two to clash in the Doctor Strange sequel, which given the film's strong performance its opening weekend, is all but inevitable.
Thor: Ragnarok will be released November 3, 2017.